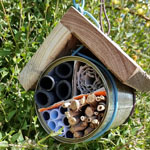 Insect Hotels - School Holiday Workshop
24 Apr 2018 10:00am to 24 Apr 2018 1:30pm
Recreate & Community Sharing Garden
Cnr Phillis St & Showground Tce, Mount Pleasant South Australia 5235
Every garden should have an Insect Hotel! Support biodiversity & provide homes to a range of insect pollinators & pest controllers that are essential to a healthy environment & garden. Children will make their own insect hotel ready to take home & install in the garden. A range of recycled & found materials including paper, clay & vegetation will be used to create habitat for many of our beneficial insects. This is nature play at its best: hands on, informative, practical, & fun!
Recreate Printmaking - School Holiday Kids Workshop
27 Apr 2018 10:30am to 27 Apr 2018 1:30pm
Recreate & Community Sharing Garden
Cnr Phillis St & Showground Tce, Mount Pleasant South Australia 5235
Explore printmaking with recycled, natural & found materials. Let's get curious together to explore a variety of simple forms of printmaking in a fun tactile way - don't forget to bring your apron or wear your art clothes. It's about seeing and exploring possibility for creativity & making prints from ordinary & everyday materials.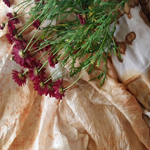 Natural Dye Workshop
29 Apr 2018 10:00am
Mount Pleasant Natural Resource Centre Inc
132 Melrose Street, Mount Pleasant South Australia 5235
Part art, part science, part experimentation, all fun! A practical hands on workshop where you will learn sustainable techniques for natural dye extraction using plants. Covers preparation, process and use of natural dyeing techniques and how to create different dyeing effects. This workshop will primarily focus on natural dyes for fabrics, giving you the means to recreate and renew clothing and textiles in a sustainable and ecologically mindful way.