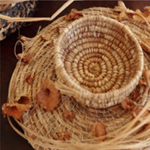 Recreate Baskets: Stitch those leaves & weeds
25 Feb 2018 10:00am
Recreate & Community Sharing Garden
Cnr Phillis St & Showground Tce, Mount Pleasant South Australia 5235
Rethink your weeds and garden waste, before it makes it to the compost pile! Many of our plants can provide interesting textures and colours for functional and beautiful containers and vessels for your home. You will learn techniques for collecting, drying, and preparation of materials. Learn how to build forms with garden waste and weeds using basket stitching techniques.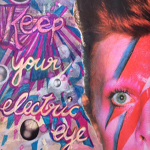 Recreate Altered Book Art Journaling
03 Mar 2018 12:30pm
Mount Pleasant Natural Resource Centre Inc
132 Melrose Street, Mount Pleasant South Australia 5235
Be guided by visual artist Janet Gallagher to begin your own Altered Book Art Journal. This form of art journaling is an excellent way to explore a variety of mixed media and to experiment with ideas. It's also a great way to transform the life of old books to become personal, creative journals.