Coming soon
The improved dashboard will soon be the default
After a soft launch, our improved dashboard layout will soon be the default for all users. All the features and functions of the previous layout are still there—we've just made it easier to move between features with fewer clicks. If you haven't tried it yet, click on the 'Try new portal' button at the top of your screen when you log in.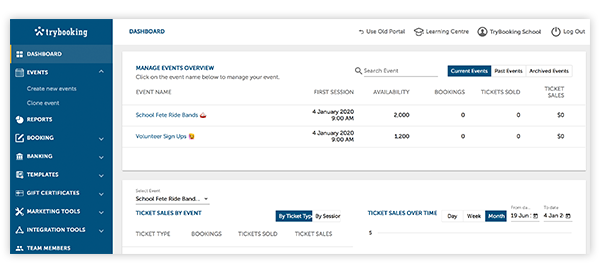 We've put together a blog that goes through both what's new and where you can find all your familiar features here.
If you have any feedback or would like to take a guided tour of the dashboard, get in touch with our local Customer Success team.
Just released
Hide availability
You asked, we listened—you can now hide the count of tickets available on your event booking pages. You can make this switch from Event publication. Watch this short video to see how it's done.
Favourite reports
You can now add a star to your favourite reports, letting you find them quickly later. If you want to know more about what each report does, read our Learning Centre article here.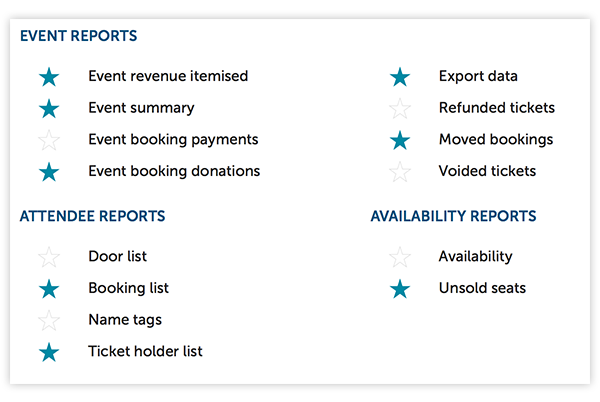 Gather attendee names
You can now gather attendee names with the tick of a button. In Data collection, scroll down to Attendee and tick the box Collect Attendee name per ticket. If you want to make this a compulsory field, make sure you also tick Make Attendee name mandatory.

This field will be able to link with the scanning app in the next iPhone and Android release. Previously, multiple tickets booked by one person were all labeled with that person's name in the app. Now, if you enable attendee name, these tickets will instead be listed under each attendees name.
Data collection page streamlined
The data collection page has been streamlined. Now, instead of navigating between tabs, all options for collecting data during booking are on one easy-to-navigate screen.
Add emojis and other characters
We've upgraded our character library. This means that you can now use any Unicode keyboard and character set, including Han and emojis.
Tip: you don't need to be on mobile to insert emojis. On Mac, press Command + Control + Spacebar to bring up the emoji picker. On Windows 10, press Windows key + period.