OUR LATEST PRODUCT UPDATE
We've been hard at work to bring you a series of upgrades for your events, bookings and registrations. Today we're excited to announce that there'll be some major changes taking place around the website and your account: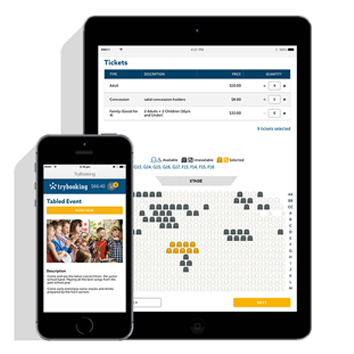 Mobile pages for bookings on-the-go
Our booking pages are going mobile in addition to desktop, so now your guests will be able to book, pay or register for events wherever they are, meaning more convenience for them and faster results for you.
A new look
Cleaner pages and streamlined design.
Less steps to book equals more efficiency
Guests are now taken through fewer steps during the booking process to save them time and reduce the chance of unfinished forms.
Features you already know and love
You can still enjoy or learn about our great existing features like cloning past events, multi-tier user access and flexible DIY registration forms and data management.
Our commitment to you...
We still provide the lowest fees in the industry. Our client success team still offer unlimited support, software training and refreshers whenever you need it, and we're still here to guide you with our helpful online resources.
Stay tuned for more
The most recent changes are part of a series of ongoing updates. There is more to come, including widgets, email interfaces and mobile scanning.... so stay tuned!
The changes taking place were based on valuable feedback from customers like you. The quality of your experience with TryBooking is our number one priority, and we encourage you to let us know what you think about the upgrades too.
To test drive the new booking experience, click here.
The TryBooking team is here to help with anything you need. We're just a phone call or email away, so get in touch if you'd like some help or anything else!
Enjoy the new features and design,
The TryBooking Team