It's the one event season of the year that everyone knows is coming. Everyone's calendars are packed and it can be a struggle to get attention – but once you've got it, you have a massive opportunity to use it for fundraising.
After all, it's the season for giving. Everyone is in a festive mood and throwing a great fundraiser is a perfect opportunity to capitalise on that.
We've put together a list of 11 holiday-themed fundraising online events that can help give your organisation or community group a financial boost. These inspiring ideas a great way to start your own planning – which you should begin as soon as possible!
Holiday movie marathon
There are so many great movies to choose from, you're really spoiled for choice. Organise a screening of a few different great classics and turn it into a fundraiser by selling tickets for people to come. Better yet, tell people to come in their ugliest sweater or a themed outfit to add a little more fun to the mix.
If marathons are too lengthy of a choice - you could also take advantage of the holiday-themed movies that come out around the end of the year and organise a single screening through your local cinema.

Sell tickets to your film fundraiser on TryBooking. 
Raffle fundraisers
The thing about a raffle is that you need to actually have a decent prize to encourage more entries. So this is where a sponsor could come in handy. Work to get a prize donated - something that people actually want! This time of year is a popular time for giving and receiving material gifts, so consider offering an experience as an alternative prize - a scenic getaway or a family portrait session, perhaps?
Christmas tree sales
This is a great one to start with, especially because you can get people's attention earlier in the holiday season. Organise trees to sell and best of all, even offer delivery so you can get people drawn into the entire experience.
You can use a system like TryBooking to take orders online and arrange delivery or pick up.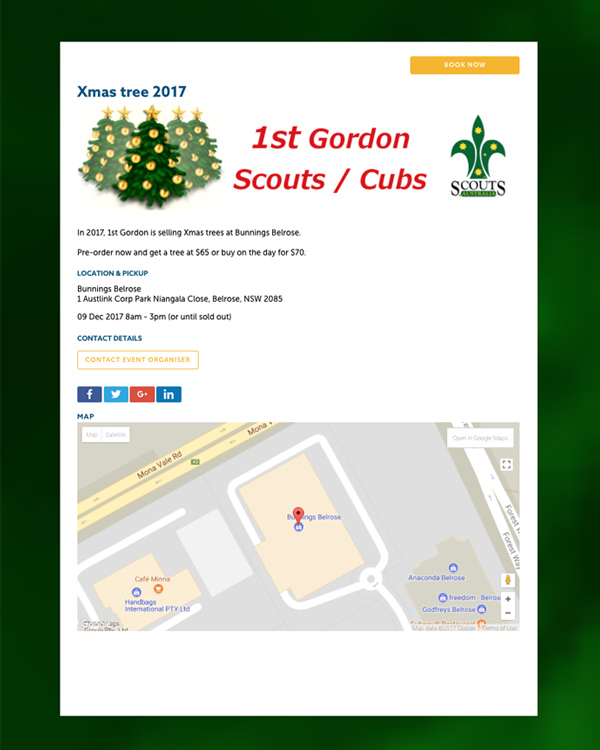 TryBooking can be used to sell merchandise online such as Christmas trees, clothing and more. 
Craft market
The best fundraisers are community events. Create a market and let local artists and creators sell their wares for gift ideas. They can pay a fee to attend or have a percentage of the revenue.
It's easy to set up stalls on TryBooking and let your stallholders book and pay for their ideal stall location.
Gift wrapping services
This is one of the best ideas for a holiday-themed fundraiser. Advertise to have people drop off their gifts and get them specially wrapped for a fee. Remember, the benefit that you're giving people is time so target busy folks or families who usually leave that type of administration until the last minute!
Create gift baskets or collections
One of the most frustrating aspects of the holidays is just finding the right gift for someone…that someone who you can never buy anything for. Creating gift baskets or collections centered around specific themes, such as beverages or food, can be a great way to raise money. If you run a class, workshop or are interested in selling gift certificates for fundraising, you can do that too. Selling gift certificates for experiences via TryBooking, and encouraging buyers to add a donation to a good cause as they check out is a great way to achieve two outcomes in a single transaction. 
Gift cards
Hire some local artists and create some unique gift cards with art that really pops. Include your branding in there and your website to get the message out, along with a cut of the profits from the cards.
Advent calendars
These are actually easier to make than you'd think and there are companies that create custom calendars for order. Create branded advent calendars with attractive imagery and sell them to make some extra money around the holiday season.
Donations
If you're hosting a holiday-themed fundraiser…just ask people to make the extra donation to your cause. If they can't, no harm! But you should at least ask the question.
If you're running the event on TryBooking, you can also add in a donations step prior to checkout when guests book their tickets.
Go ice skating
Not so much of an idea in the northern hemisphere, but if you're in the southern hemisphere – like in Australia – ice skating during the holiday period can seem somewhat of a novelty. Organise a trip to an ice skating rink for some fun times and a chance to ask for donations.
Gingerbread contests
Who doesn't love creating gingerbread houses? This is a great one for kids to be included with as well. You can easily create an event for this on TryBooking, take bookings from interested families and orders/online payments for Gingerbread kits all in the one place online.

Gingerbread house decorating is an incredibly fun, family-friendly activity - and your attendees can walk away with something in hand too. 
Or how about a craft fair that also sold gift baskets and cards?
It's important to be creative during the holiday season because people are already so busy. They don't need another thing to fit into their lives if it won't provide value, so think about what you're offering first. If you do your job well in creating a great Christmas or holiday-themed fundraiser, the donations will come rolling in!
The TryBooking Team