The industry has changed. Events that were once simple to set up now take some thought. Our team is committed to helping you work through your state's legislation to put on successful events that keep the community safe and informed. 
We have been amazed by our client's ability to think on their feet and adapt to the forever changing climate of events. Our Client Success team has been working through a number of different scenarios to best adapt to the new normal that is social distancing.  With each state having their own legislation, we are here to help you successfully host events again.    
 
Data Collection  
It is now a requirement that all venues record patrons' names and contact details should they need to get into contact regarding an outbreak. It is recommended that you use Data Collection to collect each attendees name and details. Another custom data collection field you may choose to include could be 'have you recently traveled overseas?'.  The more information the better! By having already taken this information it will save time on the door as you won't need to take each patrons name and contact details.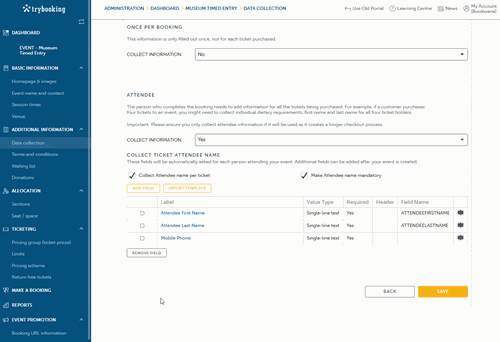 Timed Entry  
It is now a requirement that venues limit the number of people permitted at a venue or event. Offering your customers the ability to book to specific entry times throughout the day with a strict capacity set can assist with keeping numbers on site within the regulations. It will also help with preventing long wait times for entry that can dampen your visitors experience. 
Click here for detailed instructions for setting up. 
 
If your event doesn't have multiple time-slots and doesn't run across multiple dates. You may choose to set capacities and limits to determine how many tickets can be sold to your event, as well as how many tickets can be purchased in a transaction. 
Scanning App  
As you need to have a clear audit of those who have visited your venue or attended your event, the TryBooking mobile scanning app allows you to manage the entry to your event and scan attendees' tickets as they arrive. This allows event organisers to validate tickets and to generate a report of who was on site at what time. The app is free to use for event organisers and their teams using TryBooking.  
You can download the app from the Apple App Store or Google Play Store for free and start scanning entries directly from your phone.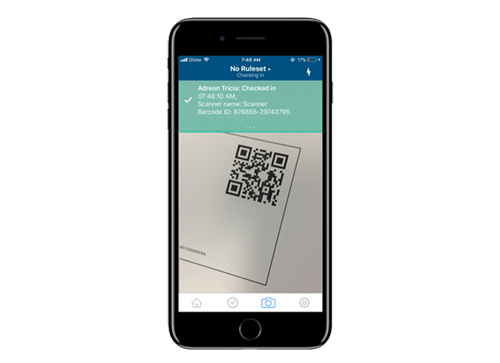 Terms and Conditions  
Did you know you can customise your own set of terms and conditions? At this time, you may choose to have set terms and conditions that include your state's legislation and/or your cancellation policy. Customers will be able to review your terms and conditions during the booking process. Accepting both TryBooking and the Event Organiser's terms and conditions is a precondition of using our service. 
For instructions of setting adding your own terms and conditions click here. 
 
Creating a General Admission Event for a Seated Event. 
Used to hosting events with allocated seating? In the current climate of events we are suggesting that event organisers create general admission events instead of seated events. Creating a general admission event will allow customers to select their own seat on the event day, meaning families can remain seated together and those who need to social distance can.  
By setting your event to general admission it means that you don't need to break up or block seats out on your already created seating plans. You will be able to dictate how many attendees can be seated at your venue, so no attendees are compromised.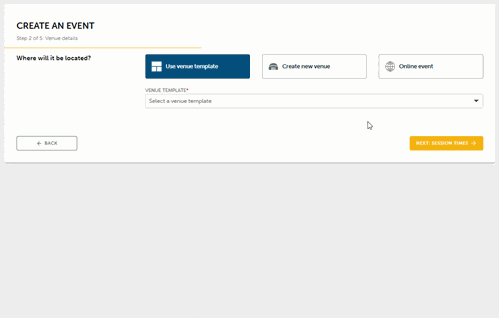 Donations  
Allow customers to donate a little more to your organisation or business. Having Donations enabled allows customers to donate whilst selecting their ticket. Australians all over the country are aware of the hardship business have felt by having to close their doors, and are digging deep to help out their favorite businesses, attractions etc. 
Donations are also a good option for customers of yours that can't make it to your event or have the money now to give, it's a perfect way to raise additional funds.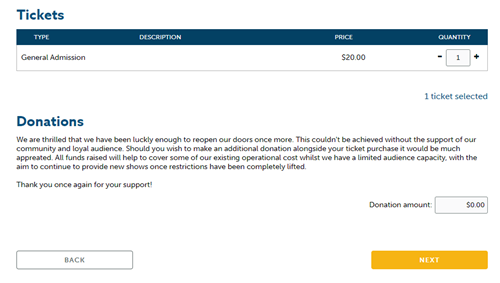 Not ready to take your event on the road just yet? That's okay we understand that some state's legislation doesn't yet allow for the events you once put on. In this case our team is still here and dedicated to help you host events online.  
Feel free to reach out to the TryBooking Client Success team if you have any questions or need a hand to get started with your events.