Phillip Island & French Island - School Holiday Camp

This is a six day School Holiday Camp program. The camp is full of adventure, fun, heaps of awesome activities, and excitement! Come onboard the Quest Skills for Life School Holiday Camp and get to experience some awesome fun activities, culture, water/land based activities, marine conservation, ecology, history, leadership and outdoor education!
2019 CAMP: Sun 13th January – Fri 18th January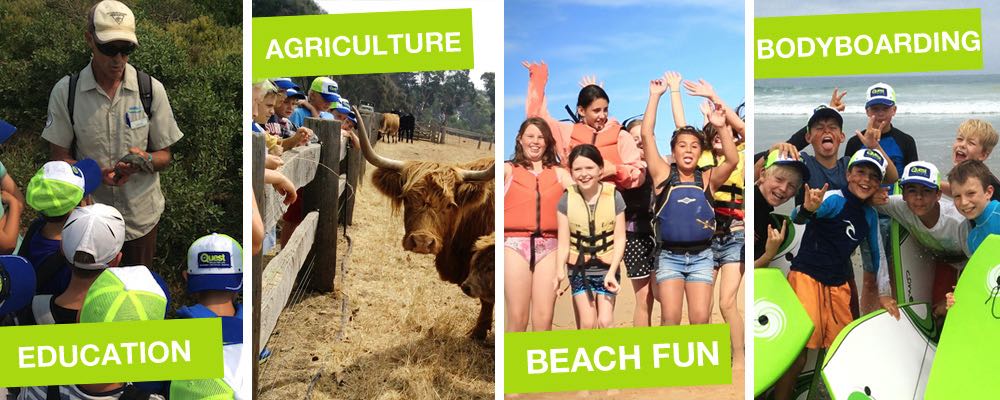 What:
- 6 day School Holiday Camp program for students aged 10 years to 16 years (**Duke of Ed Students Camp runs concurrently) 
- Run and organised by a Fully Accredited & Award Winning organisation Quest Skills for Life, famous for their Leadership & Development Quest programs
 - Melbourne CBD pick-up and drop off (other options also available)
Includes:
- All Equipment hire (including tents, safety equipment, activity equipment, props, etc)
- Fully 24hr Supervised and led Holiday Camp by qualified Quest Skills for Life team leaders, all qualify to the Department of Education standards (ratios 1:7), and have great skills when working with young people. Real life-skills and team-builders!
- All Healthy Food Catering
- 1-2 nights Accommodation Indoors (split gender dorms) 
- 3 nights camping in tents around Phillip Island & French Island
- Campcraft, campfires including 'beginner' survivor games and activities
- Body Boarding or Surfing*
- Sheltered Coastal Swimming and Ocean & Tide Education (qualified instructors
- Bushwalking
- Coastal walks, beach games and marine education
- Sea Kayaking
- Phillip Island Ranger Parks Activities
- Visit to the Penguin Parade
- Koala spotting and Wildlife education
- Sea Ferry Tickets and experience
- Visit to Mcleods Eco Farm and tour
- Tour of French Island 
- The Quest Skills for Life Student Leadership & Development Program
- Entry to the Parks on Phillip Island
- Shuttle Bus Fees
and lots more...
(Students just need lunch money for the first and last day, everything else is included in the holiday camp package) 
Click here to view previous camp photos > All Photo Galleries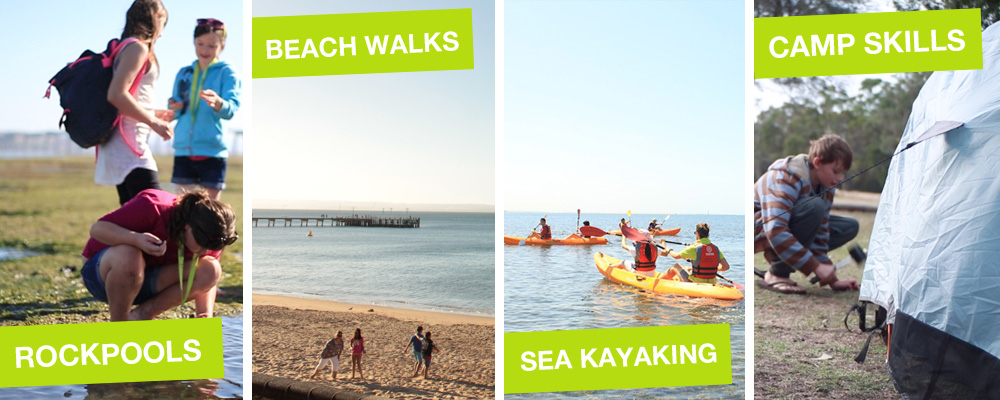 Next Step: Please continue this booking and enter the required details and make the payment of $745.
Please note that payment will be requested using a credit card.  If you wish to transfer funds from your bank account instead:
Apply promotion code "EFT" on the Shopping Cart page

Our bank details will be emailed to you

Please make immediate payment using parent's name as the reference
Other Notes: We normally have about 20 students with us on camp, of varying ages and always great fun. If we have more students, we have more staff facilitating the camp. We work of the Adult to Child ratio of 1:7 students. Students are to meet with a Quest Skills for Life guide at Southern Cross Train Station in the Morning of the first day of camp to catch run introduction and icebreakers, then we board the train/bus as a group to our Camp Destination. Departing from Southern Cross we then travel to Phillip Island for our camp introductory meeting. The theme of the Phillip Island Ranger Quest School Holiday Camp is like all of our camps where students are the 'owners' of their camp experience, they will be given a task over the camp program to lead and manage their team (with the guidance of Quest Skills for Life facilitators) as they take on roles relating to the Marine & Conservation issues faced by the Ranger Team, having fun and learning! All students will need to bring their Myki with them for their camp with sufficient credit. Quest Skills for Life staff can purchase Myki Travel Credit at the students parent(s) or caregivers expense. The Myki is used for travel between Melbourne and Phillip Island
Duke of Ed Students: This is the same Booking Portal for you, please continue the booking process as follows.
Contact:
paul@questskillsforlife.com.au
This event is currently closed and no contact details are available