Abuka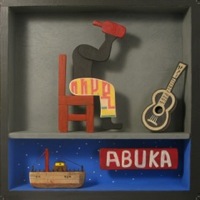 Thursday 16 October: Brazilian soul-jazz project Abuka is known for its consistent rhythms and corrupted beats.
Blending sounds of distant places, from the deep roots of Brazil's kaleidoscopic regional rhythms to the cosmopolitan inner city jazz, Abuka leads the public to an exquisite and compelling rhythmic journey.
Sharing the stage with Australia's finest musicians as well as international artists, singer, songwriter Tiago De Lucca and multi-percussionist Sandro Bueno are the alchemists of Abuka's essence.
Abuka is now embarking on a tour beginning with Fusion Festival in Wagga Wagga before landing in Melbourne with a run of concerts in the city's most sought-after venues. They'll showcase music off their debut album "One Take" and a selection of the songs that influenced their music path.
Abuka's infused funky grooves have won the endorsement of the great Bill Summers and soul diva Shelby Johnson.
Abuka presents original music delivering one of the most admirable and breathtaking performances on the Australian music scene.
"They are fantastic!"
Bill Summers (Stevie Wonder, Herbie Hancock, Quincy Jones, Michael Jackson, Madonna)
"Well, yes I boarded the jet on time & went straight to the sound system to pop in the cd! Immediately Prince asked 'What's that?' I was like 'these are my new friends Abuka...Totally talented and fellow "tribemates"'. After two songs I went to take it out...and he stopped me. Yep! I knew he would!!! Ha!"
Shelby Johnson (The New Power Generation, Prince, Santana, D'Angelo)
Bookings close at 4pm on the day. Tickets may be purchased at the door subject to availability. No refunds or exchanges
DOORS OPEN AT 6pm for cocktail hour, dining and best seating. (90% seated, 10% standing)
Two sets until 1130pm (approximate)
505 reserves the right to sell unredeemed tickets after show time
VENUE:
Venue 505
280 Cleveland Street
Surry Hills
Sydney, NSW 2010
CONTACT DETAILS: c20dog@me.com
This event is currently closed and no contact details are available