MUST presents Them Aspies
Monash Uni Student Theatre (MUST) presents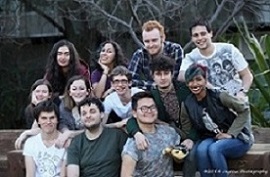 THEM ASPIES
Created by Jess Gonsalvez and Tom Middleditch
With the increase in autism diagnoses and the changes in diagnostic criteria over the past twelve months, there is an air of confusion surrounding Autism Spectrum Disorder (ASD) and Asperger's Syndrome. Nine young performers traverse this landscape. Together, they show fragments of the lives of young people on the Spectrum, navigating the complex spheres of mental health, social acceptance, sexuality, and gender identity. The audience enclose this space. They are staring at each other. In many ways, they are an audience to their own preconceptions.
THEM ASPIES is ultimately a work that deals with the triumph that cultivates within pain, ripping the bandaid off modern perceptions of Autism and Aspergers. It is a show that boldly asks;
"Are we more like Them Aspies than we ever thought we were?"
Tickets: $10 MSA / $12 Conc / $16 Full
Bookings online here or in person at MSA Reception, Campus Centre
Venue:
The MUST Space
Ground Floor, Western End, Campus Centre
(BLG 10) Monash University
CLAYTON, VIC 3800
NB:
THEM ASPIES is suitable for mature audiences. The show contains adult and sexual themes, some distressing content, coarse language, and some non-Autistic performers acting as Autistic and non-neurotypical characters.
Please note all bookings are final - no refunds or exchanges are possible.
This event is currently closed and no contact details are available