JARON FREEMAN-FOX & BAND at Hotel Gearin
JARON FREEMAN-FOX & THE OPPOSITE OF EVERYTHING (CANADA)
Sat 31st Jan 2015

Nomadic Fish & Fusion Boutique Present:
Jaron Freeman-Fox & The Opposite of Everything (Canada)
Special Guests -
Lime & Steel (Blue Mountains)
Limitlessly creative and playful, "The Opposite of Everything" dances down a line between the beautiful and the absurd, transforming Freeman-Fox's intricate violin compositions into an infectious party.
Winners of three Canadian Folk Music Awards, the ensemble also features Toronto's finest and most adventurous musicians: New Orleans-style clarinetist John Williams, Klezmer accordionist Robbie Grunwald, Jazz bassist Charles James, and drummer Dan Stadnicki.
Continually redefining what the violin is capable of, Jaron has fused his fiddling roots with a study of Jazz and Indian classical music. At age 14, he began an apprenticeship with Canadian fiddle pioneer Schroer, which lasted until Shroer's death in 2008. Jaron has been playing his mentor's custom 5-string violin since.
"The hyper-kinetic Jaron Freeman-Fox is the Jimi Hendrix of the violin. 
With the chops of a classical virtuoso and the soul of a wild-eyed punk, he plays world music in the truest sense of the word, leaping from Gypsy to Klezmer to Celtic to Country without skipping a beat."
- Ottawa International Jazz Festival
This will be their first appearance in Australia!
www.theoppositeofeverything.com
With a driving banjo, doghouse bass, a sweet fiddle, Blue Mountains locals 'Lime and Steel' take a bluegrass string band, throw in a rock drum kit and a uniquely Australian intonation for a show of originals that moves from pub rock anthems about EH Holdens to convict murder ballads. Lime and Steel's sweet harmonies twang through Bogan bluegrass love-songs and wind up into a spoon-tappin' fast-pickin' wine-soaked hillbilly family singalong.
www.facebook.com/LimeAndSteel
One Show Only - Don't miss your chance to enjoy this unique musical experience!
Doors Open 8:30pm.
Support Starts 9pm.
General Admission. Room configuration is a mix of cabaret seating and standing/dancing.

VENUE:
HOTEL GEARIN

273 Great Western Hwy
Katoomba, NSW 2780
Blue Mountains
Tickets $15 pre-sale available NOW from:
KATOOMBA MUSIC, 140 Katoomba St, Katoomba, NSW 2780 (Cash Only)

Online $16.50 (Including booking fees)

Or $20 on the Door from 8:30pm Sat 31st Jan 2015 (Unless Sold Out)

CONTACT DETAILS: Charity Mirow 0409 042 869 info@fusionboutique.com.au
For more information visit: www.fusionboutique.com.au/events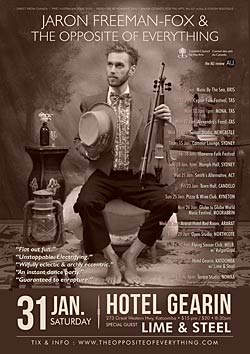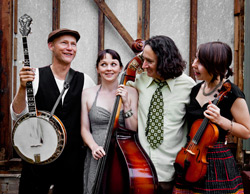 This event is currently closed and no contact details are available