Tales of the Wizard of Oz
Artz Collective Presents:
Tales of the Wizard of Oz
A family musical full of your favourite characters & music from broadway shows
"The Wizard of Oz" , "Wicked" & "The Wiz".
Co-Directed & created by Ms Ziggy Clements & Joanne Adderley,
the Artz Collective proudly shows off it's talented team to take you on
a fantastical, delightful musical journey into the Land of Oz!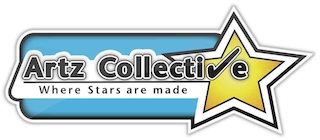 Featuring Guest Artists:
Tim Minturn & Rachel Ledgerwood
Graham Pages as The Wizard
Choreography: Ziggy Clements, Joanne Adderley, Nicole Miles
Musical Direction: Ms Ziggy Clements
Lighting Design by Jason Bovaird.
7:00pm Tues Dec 9th & Weds 10th
Williamstown Mechanics Institute
Adults 35 / Children 13yrs & under 25 Book Online here.
Cash sales only available at the Artz Collective office.
E: admin@artzcollective.com.au
www.artzcollective.com.au
This event is currently closed and no contact details are available