THE BEEZ - Don't Mention The Wall!
The Beez and Fusion Boutique Present: THE BEEZ - Don't Mention The Wall!
Upstairs "Live At The Attic" Hotel Blue, Katoomba, Blue Mountains.
Sunday 26th April 2015.
Doors 6pm. Show Start 6:30pm.
Original Songs, stories, short films and slides from the fall of the Berlin Wall and beyond, with native Berliner Deta Rayner (accordion/voice) and Australian expat and Berlin resident since 1988 Rob Rayner (guitar/voice) This unique show encompasses their experiences, both personal and political, during the Fall of the Berlin Wall in 1989.
From Balkan to Bluegrass, Polka to Punk and Klezmer to Cabaret, this is the unadulterated truth about the dramatic post-Wall banana shortage, East German Country and Western harmonica production and Stasi-assisted sound checks, all from a uniquely German/Australian perspective.

Cabaret sensibilities and trademark soaring harmonies inform Rob and Deta´s performance in a funny and moving account from two musicians unwittingly caught up in one of the most significant events of the 20th century.

Following a successful Australian tour in 2013 (generously supported by the Goethe Institute), this truly unique show is currently being performed in Germany to mark the 25th anniversary of the fall of the Berlin Wall.

"Don't Mention the Wall!" will be touring Australia from January to May 2015.

One Show Only - Don't miss your chance to enjoy this unique boutique experience event!

Web: www.thebeez.de
Facebook: www.facebook.com/thebeezfromberlin
Youtube Channel: www.youtube.com/user/thebeezberlin

VENUE:
HOTEL BLUE "LIVE AT THE ATTIC"
88 LURLINE ST
KATOOMBA, NSW 2780
Blue Mountains

Doors Open 6:00pm. Show Starts 6:30pm.
General Admission. Theatre Style Seating.
Tickets $20 discount pre-sale (Cash Only) available from:
HOTEL BLUE (during reception hours)
88 Lurline St, Katoomba, NSW 2780
Or via phone/card +$1.50 bf 02) 4782 6922

Online $21.50 (Including booking fees).

Or $25 on the Door from 6pm Sun 26th April 2015 (Unless Sold Out)
This is an intimate seating and tickets are strictly limited!

CONTACT DETAILS: Charity Mirow 0409 042 869 info@fusionboutique.com.au
For more information visit: www.fusionboutique.com.au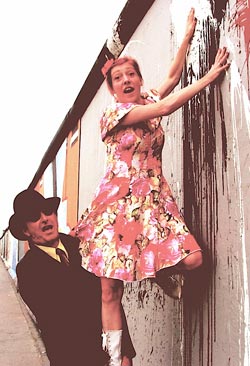 This event is currently closed and no contact details are available