2015 Calisthenics School Holiday Fun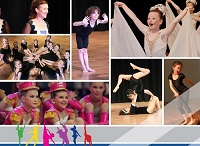 2015 Calisthenics School Holiday Fun
Presented by Healthway "GO FOR 2 & 5"
Calisthenics is a sport for everyone! It combines the best aspects of sport and the performing arts. Enjoyed be all ages and abilities. Primarily a team sport, Calisthenics teaches its participants about commitment, confidence, team work and sportsmanship whilst promoting friendships which last a lifetime.
*FUN*FITNESS*SINGING*DANCING*TEAM SPIRIT*GYMNASTICS*FLEXIBILITY*
*CONFIDENCE*COORDINATION*PERFORMANCE SKILLS*
Do you want to try an exciting sport that incorporates elements of dance, gymnastics, ballet, singing and acting?
TO REGISTER CONTINUE ON....
CONTACT DETAILS:
Development Officer
development@calisthenicswa.com.au
Ph: 08 92743958
This event is currently closed and no contact details are available