PUPPY SCHOOL
Learn, Teach & Play!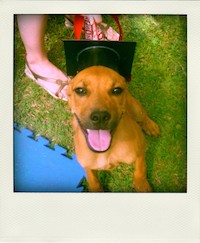 This course is a great way to start life with your new family member and is aimed toward puppies between 8 & 15 weeks of age. 
Your family will recieve a better understanding of dog behaviour and with a qualified trainer will integrate your puppy into the family and have a positive and enjoyable relationship with your right from the start. You will also gather the skills to start teaching your puppy the basics in manners and obedience plus most importantly gently start socialising with other puppies, people, objects and noises.
The course is 5 Lessons over 5 weeks.

All your puppy behaviours topics covered…. Chewing, Digging, Jumping, Biting, Toilet training and more.

Good general Obedience learned….Come, Sit, Watch, Walk, Down and Stay with easy training methods.

The course covers safety handling, health, games, food and bones.

Socialisation for both noise and objects, and safe/calm socialisation between puppies.

 

Small class sizes with a limit of 5 puppies.
Please note the first class is an Information session, without puppies, please when booking read the follow up email that will be sent to you, Thank you kindly :-)
Please follow the registration link to secure your puppies spot as there is limited spaces per class, payment is via credit card.
                                                             Venue:    Mandurah South Vets
                                                                      Shp 3/ 609 Oldcoast Road
                                                                           Falcon, WA 6210
CONTACT DETAILS:
Instructor Debbie Coleman - over 12 years experience , BSc, Cert 3 NDTF 
 0439 359 601
debbie@allsortsdogtraining.com.au
www.allsortsdogtraining.com.au
Facebook/allsortstrainingdogs 

This event is now sold out
Resend tickets to your email address.
Contact the event organiser.
You can review the event organiser's terms and conditions here.
You can review the event organiser's terms and conditions here.
If you can't find your tickets, click here.
Your email has been sent.
The organiser will be sent the details of this message.

Sorry, there appears to have been an error. Please try again later.