Baby et Lulu are coming to town…launching their new CD, ALBUM DEUX
WHAT:
Baby et Lulu (AKA Abby Dobson and Lara Goodridge) combine their amazing talents in an explosion of French chic. The jazzy, French chansons will have you feeling like you're sitting in a
Parisian café even if you've never been to France.
Alt Media
"….it was clear the trés charismatique pairing of sexy songstresses Baby et Lulu have earned themselves a strong following of baguette-loving baby-boomers" The AU Review
Take a bit of Piaf, mix with some Aznavour, flavour with Moustaki and stir with Baby et Lulu's own compositions...the result is an enchanting musical soiree.
If you love France and Jazz, this is a MUST SEE… one night only…
Ticket prices: from $25 to $35 . (If booked through Tourist information Centre, a booking fee of $2.50 applies per ticket)
VENUE:
Mittagong Playhouse
Cnr Main Street and Bowral Road
Mittagong, NSW 2576
CONTACT DETAILS: Clare Macarthur Stanham, claremstanham@gmail.com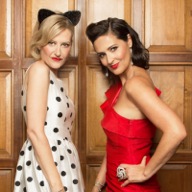 This event is currently closed and no contact details are available