School of Ministry 2015
13 - 14 July 2015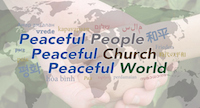 PEACE: what does it mean to be agents of peace in a world of conflict? This year's School of Ministry provides an opportunity to hear from two great teachers who have worked in the area of peacemaking and peace building. We can think and pray together, as we reach out for the peace of God—to become peaceful people, in peaceful churches, for a peaceful world.

Dr David R. Brubaker and Rev Dr Maung Maung Yin are our special guests this year.
We expect that Monday will be of special interest to lay and pastoral leaders in the Burmese church, along with other church groups that have emerged from communities at war. Tuesday 14th will offer special input on Peacemaking.
VENUE: Whitley College
This event is currently closed and no contact details are available