Monash Shakespeare (MSC) Presents:
Vengeance is in my heart, death in my hand,
Blood and revenge are hammering in my head.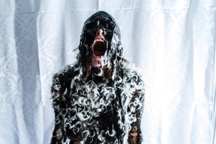 A new work devised from Shakespeare's Titus Andronicus. Titus is unstable; a dangerous place where the boundaries between fiction and reality are blurred. It is a commentary on greed, power, honour and identity played through a political succession crisis. This is not a traditional Shakespeare. This is a radical reworking; a dehumanised distortion of reality.
There is no redemption here. Characters hide from the piercing scrutiny of the camera, which registers all. The low hum of a machine, the siren of a nearby alarm. Disaster. Surrounded by eyes. Cold scrutiny of a higher power. The flicker of cheap fluorescent tubes makes us sick. Association throws the work in the now and allows us to draw inferences from our zeitgeist. Australia 2015.
It's certainly no utopia.
~ ~ ~ ~ ~
ADVISORY: This work will contain themes, images, and actions that audiences may find disturbing. It is not recommended for people under 16. Please contact production manager Zoe Dove below for more information.
Dates & Times:
9 - 11 and 14 - 18 July @ 7.30pm
11 July @ 2pm
Tickets: $15 MSC Member / $17 Concession / $21 Full
Bookings online or at door if not already sold out. Please note we can only accept cash payment for door sales.
All online bookings close 30 minutes before the show commences.
Please note: Bookings are final and no refunds or date changes are possible.
Venue:
Second Story Studios (Downstairs Theatre)
3/159 Sackville St
Collingwood VIC 3066
Street parking and wheelchair access available.
This event is currently closed and no contact details are available