Chorus Registration, Street Requiem CA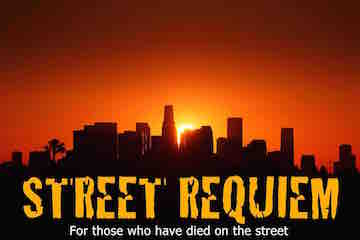 Sing with FREDERICA VON STADE for a great cause
Register BELOW (green button) to join the chorus this summer in the California premiere performances of STREET REQUIEM, benefiting
Singers of the Street
(SOS) - a program that enables homeless and marginally housed San Franciscans to express themselves and improve their quality of life by singing in a choir.
In light of recent race-related violence in the US, STREET REQUIEM provides an important way for singers from all over the Bay Area to express through music our hurt and anger as well as our desire and longing for peace and safety. It should also speak strongly to the LGBTIQ community, considering the tragic deaths we see on our streets each year as a result of hate crime. Our performances will raise public awareness as well as funds to support those living on the margins in San Francisco.
About STREET REQUIEM
Composed in 2014 by
Dr Kathleen McGuire
(former Bay Area conductor of San Francisco Gay Men's Chorus, Community Women's Orchestra and more) with Australian collaborators
Jonathon Welch
AM
and
Andy Payne
, STREET REQUIEM is a 40-minute, 10-movement cantata for soloists, chorus and orchestra. It is highly accessible, uplifting, multicultural, multi-faith and secular, mourning those who have died innocent on the street as result of poverty, war, illness, violence, hate crime or homelessness.
Performances
Saturday Aug 29, 2015 (evening), Old First Presbyterian Church, San Francisco
Sunday Aug 30, 2015 (afternoon), Congregational Church of San Mateo
Listen
Performance reviews (Dallas, TX):
Cost
Participation for singers is free, except for the purchase of the sheet music (PDF) and rehearsal tracks ($20 US for individual singers, or $12 per singer for groups of 10 or more).
[If you cannot afford to pay, some scholarships are available. To learn more about this please do not continue to register here but instead email Ashley Moore: amor@ashleymoore.com.]
Participants will also have access to a free "app" to keep up-to-date with rehearsal details etc.100% of participants' funds will benefit the School of Hard Knocks, providing services to hundreds of disadvantaged Australians participating in arts programs in multiple cities.
NOTE: your total will appear in AUSTRALIAN DOLLARS (0.75 USD)
Beneficiary
All proceeds from ticket sales to the California performances will benefit Singers of the Street (SOS). Founded by Kathleen McGuire in 2010 and now led by Ashley Moore, SOS is a San Francisco choir of singers at risk of homelessness. SOS, dedicated to raising voices for justice, healing and joy, will celebrate its 5th anniversary just a week after the concerts. SOS is a project of
Welcome
- a communal response to poverty.
SCHEDULE
All rehearsals from Aug 23 are essential. For most community chorus singers, 5 - 6 rehearsals is recommended. If you are a confident music reader, you may be comfortable with fewer rehearsals (but your presence at rehearsals will of course help others!).
TBA - stay tuned...
Dr Palant - former AD of Turtle Creek Chorale in Dallas TX - conducted the US premiere of STREET REQUIEM last January and is flying out especially to share his deep knowledge of the piece!
Saturday morning rehearsals starting July 18
, 10AM-12PM at
Grace Evangelical Lutheran Church
, SF led by
Grace Renaud
Wednesday evening rehearsals in San Mateo starting July 15, 7-9PM, led by Carl Pantle, Stephanie Smith and Daniel Hughes.
(Aug 22: Dr Kathleen McGuire arrives in SF and will lead subsequent rehearsals and performances)
Sunday Aug 30 - Congregational Church of San Mateo (12PM rehearsal, 2PM concert)
Concert tickets are available
HERE
or by calling (415) 731-1305
Thank you for registering to be part of this important event to raise awareness while supporting Singers of the Street. Street Requiem chorus participants do not need to attend all of the rehearsals, but attending 5 - 6 is recommended. Attendance from Aug 23 onward is important.
After you register, you will receive links for downloading music and rehearsal tracks, plus access to a free app with the full schedule and reminders to keep us all connected!
Warmly,
Kathleen
Contact:
This event is currently closed and no contact details are available