Team Australia should be disqualified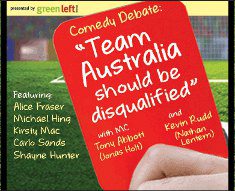 The 2015 Sydney Green Left Weekly Comedy Debate: 'Team Australia should be disqualified'
With comedians Jonas Holt (as Tony Abbott), Nathan Linton (as Kevin Rudd), Alice Fraser, Michael Hing, Kirsty Mac, Carlo Sands, Shayne Hunter.
Bar & dinner available (meal served from 6.30pm), show starts at 8pm.
Tickets: Solidarity $50, regular $30, low-waged $22, concession $12. Tickets for entry only, dinner and drinks extra.
Date and venue

Saturday October 17

Leichhardt Town Hall

107 Norton St

Leichhardt , NSW
Contact Details

Rachel Evans 8070 9331
This event is currently closed and no contact details are available