Barney McAll's ASIO Album Launch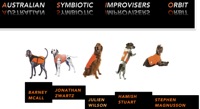 Saturday 25 July
They will be officially releasing their new album "Mooroolbark"
(ABC Jazz ), having recently appeared at the Melbourne International Jazz festival where they "brought the house down" according to 'The Australian'.
Featuring the best absolute of Australian improvising talent in high viz vests, these guys will endeavour to pull their headjacks out for the night ...
or at least vanish from their family photo albums.
There was a virtual absence of familiar bop riffs, extended bop harmonies or precise bop rhythms. Instead, Rosenwinkel's pieces offered turbulent, thickly textured waves of sound, mostly produced by Barney McAll's impassioned keyboard work. -LOS ANGELES TIMES
McAll is partial to unleashing surprises himself, whether they be radical dynamic shifts - such as suddenly reducing a solo to the merest trickle of notes against thrumming bass and whispered cymbal chatter – or just finding bewitchingly unexpected turns to take in developing a melody. Masterful. -SYDNEY MORNING HERALD
Barney McAll on Piano and Chucky
Julien Wilson on Sax
Jonathan Zwartz on Bass
Stephen Magnusson on Guitar
Hamish Stuart on Drums.
Bookings close at 4pm on the day. Tickets may be purchased at the door subject to availability. No refunds or exchanges
DOORS OPEN AT 6pm for cocktail hour, dining and best seating. (90% seated, 10% standing)
Two sets until 1130pm (approximate)
505 reserves the right to sell unredeemed tickets after show time
Venue
Venue 505
280 Cleveland Street
Surry Hills
Sydney, NSW 2010
Contact Details:
c20dog@me.com
This event is currently closed and no contact details are available