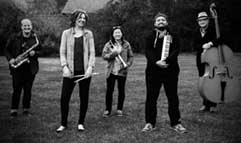 The ishs/Allen Project
Both band leaders, pianist ade ishs and drummer Chelsea Allen, hailing from Melbourne, Australia, are very accomplished players, honing their techniques of their principle instruments through this contemporary/traditional jazz-fueled collaboration.
The ishs/Allen Project plays original modern jazz tunes. Spearheaded by pianist ade ishs and drummer Chelsea Allen, this new Melbourne-based band delivers finesse in various styles, latin, funk, and more, giving the listeners moments to indulge in immersing harmonies, lyrical melodies, and dexterous rhythms.
The band has recently released their eponymous debut album, and it has garnered positive acclaims from critics.
Current line up:
ade ishs: piano, keyboards, and voice.
Chelsea Allen: drums and voice.
Paul Bonnington: acoustic and electric basses.
Ee Shan Pang: trumpet, flugelhorn, and voice.
Ben Nieuwkerk: saxophones, flute, and clarinet.
ade ishs
ade ishs is a composer/pianist currently residing in Melbourne, Australia. His playing style revolves around contemporary jazz, classical, and meditational. ade has recorded one jazz piano trio album, ade ishs Trio (2013), and several solo acoustic piano albums, Visions (2009), New Butterfly (2010), Four Seasons Suite (2014), and his latest video release, Four Seasons Live (2014); and the eponymous debut album by The ishs/Allen Project (2015).
He has performed with Dung Nguyen (Way Out West), Reyharp, Benny Likumahuwa, and many other musicians in Australia and Indonesia. He has been playing with other bands, including Ozark (Pat Metheny and Lyle Mays cover), The Jon Magill Undectet (contemporary jazz cover), and MOU Quintet (contemporary jazz cover).
I first came across ade ishs at my performance workshops …. I was so impressed by his musicianship and expressive tonal quality at the keyboard. Since that time I have become a great admirer of his approach and desire to succeed as a contemporary jazz pianist.
The smile that is across his solos, the sometimes pugilistic attack, the open-heartedness, never afraid to play pretty but also never afraid to drop a dissonance, sweet-and-sour ….
Chelsea Allen
Drummer Chelsea Allen epitomises versatility, musicality, and a performance that is always engaging and exciting. Originally from Brisbane, now based in Melbourne, she was fortunate to undertake formal music studies at Jazz Music Institute (JMI) and the QLD Conservatorium, as well as Monash University in Melbourne. With more than than 10 years performance experience in jazz, pop, rock, and world music, and playing opportunities with a number of world-class musicians across Australia, Chelsea is an exciting musician on the rise.
Her musical resumé includes stints with: The ishs/Allen Project (contemporary jazz), ade ishs Trio (contemporary jazz), Aurora Tide (rock), Alone with Tiger (soul), Fat Tuesday (funk), The Calibre Cats (neo-swing), the Monash and QLD Conservatorium Big Bands, Quorum Consensus (hip-hop), Swinging Rendezvous (manouche), Gemma Tully and the Thornbirds (folk), Ozark (contemporary jazz) and the Jon Magill Undectet (contemporary big band).
Her recent collaborations with pianist ade ishs are deeply felt, soulful and life-affirming encounters in music and friendship.
Paul Bonnington
Paul Bonnington is a jazz bassist and guitarist from Auckland, New Zealand, recently taking up residence in Melbourne. He began his classical musical training on trombone and played brass professionally for the Royal New Zealand Air Force Band for 7 years, simultaneously covering bass in the RNZAF show band. Eventually he focused on jazz bass, performing with numerous big bands, stage shows and jazz combos up and down the North Island of New Zealand for over 20 years. His main musical influence is Pat Metheny, along with bassists John Pattitucci, Stanley Clarke, Victor Wooten and, of course, Jaco Pastorius. He currently performs with Ozark (a group dedicated to the music of Pat Metheny and Lyle Mays), Sinatra after Dark (big band), Eight of Clubs (Dave Pell octet), and other bands.
Ee Shan Pang
Originally from Singapore, Ee Shan Pang is a Melbourne-based trumpeter and composer. She has been involved in numerous jazz, soul and musical theatre projects including MOU Quintet, Alone with Tiger, and Babirra Music Theatre. She regularly performs in regional festivals around Victoria such as Grampians and Castlemaine jazz festivals and was selected to participate in the Melbourne International Women's Jazz Festival. Apart from non-classical music, she is also actively involved in the orchestral and brass band communities. Ee Shan began her music studies in classical piano and trumpet where she obtained accreditations in Grade 8 ABRSM and International Baccalaureate examinations respectively. She eventually decided to focus on jazz trumpet after being exposed to the genre in high school. Her music is inspired by minimalistic concepts and influenced by Miles Davis, Brad Mehldau, Maria Schneider, Luke Howard, Ambrose Akinmusire, and many others. She currently performs with The ishs/Allen Project, The Jon Magill Undectet, and Darebin City Brass.
Ben Nieuwkerk
Ben Nieuwkerk is a versatile musician and educator. He has performed across a wide range of genres highlighted by performances at the Melbourne International Jazz Festival with Aaron Goldberg (USA), X-Factor Star Dean Ray, and The Monash Academy Orchestra. Ben is the current musical director of The Low Down Big Band and has developed his own musical identity through performing free improvisation with The Tropea Project, and his own group Ben Nieuwkerk's Strange Awakening. He has recently begun studying contemporary classical clarinet with Dr Brigid Burke with the aim of developing a more sophisticated understanding of contemporary improvisational languages. Ben undertook formal music educated at Monash University which included studying jazz in Italy with prominent Italian musicians and culminated in being mentored by Steve Sedergreen in composition and improvisation.
Tickets:
Dinner & Show: $75/$70
Show Only: $35/$30
Dinner at 7pm, Show starts 8.30pm
Old Castlemaine Gaol
36-48 Bowden Street
Castlemaine, Victoria 3450
info@oldcastlemainegaol.com.au
www.oldcastlemainegaol.com.au
This event is currently closed and no contact details are available