Trust Kids! Polly Woodside 2015/16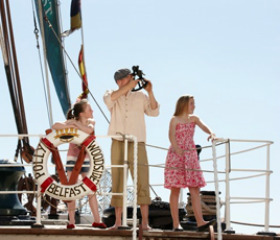 Trust Kids!
Unlock the Pirate Mysteries at Polly Woodside!
Who has always wanted to unlock the mysteries and secrets of the Pirates at Polly Woodside? Well here's your chance at the Trust Kids! Pirate School Holiday Program! This event is divided into multiple fantastic activity areas that include activities such as Treasure Hunts, Scrubbing the Decks and Pirate Games! You'll be allocated a team and at the conclusion of each activity you'll receive a pirate stamp! Successfully complete the activities and receive your very own pirate certificate! It's going to be an action packed event filled with games, adventure and a whole lot of pirates, come join the party!
Parents or guardians must accompany their children through the activities.
Polly Woodside
2A Clarendon Street
South Wharf
Melbourne, Victoria 3000
National Trust Bookings Office
Email: bookings@nattrust.com.au
Phone: 03 9656 9817
This event is currently closed and no contact details are available