Public Health & Gambling Seminar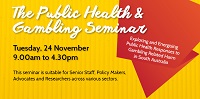 Public Health & Gambling Seminar: Exploring and Energising Public Health Responses to Gambling Related Harm in South Australia.
What will happen at this seminar ?
Some of Australia's leading thinkers and outstanding speakers in the field will join us on this day to stimulate and inform an important conversation. See below for program outline.
Why is your presence important?
To kick start the conversation that will lead to coordinated involvement by public health experts and local government in policy discourse and prevention initiatives.

To develop screening for gambling harm across all of the health and community services.
Who should come to this seminar?
This seminar is suitable for Senior Staff, Policy Makers, Advocates and Researchers from State and Local Government, Universities, and across the Community Services Sector.
Please join us in making a significant contribution to improving public health responses to gambling harm in our state.
Date: Tuesday 24 November, 9.00am to 4.30pm
Venue: Relationships Australia SA's Hindmarsh site (49a Orsmond St Hindmarsh SA)
Lunch, morning and afternoon tea provided
Places are limited. Please RSVP by 16 November.
There is no cost to attend this seminar.
Contact Details:
Diana O'Neil | Coordinator Consumer Voice Project & Team Leader Peer Work Gambling Help Service Email: d.oneil@rasa.org.au Phone: 8245 8100
The Program Outline
The Context
Associate Professor Michael O'Neil, Director SA Centre for Economic Studies, University of Adelaide
Ann Lawrence, Senior Peer Support Worker, Gambling Help Service, Relationships Australia South Australia
Spotlight and Interaction:
Associate Professor John Glover, Public Health Information Unit, formerly of University of Adelaide
The Public Health Imperative
Associate Professor Samantha Thomas, Public Health, Deakin University
Spotlight and Interaction:
Kate Roberts, Executive Officer Gambling Impact Society of NSW
Rosemary Hambledon, Program Manager Gambling Help Service, Relationships Australia South Australia
The Voices of Lived Experience
"It's Only a Dollar" by Sharon Hollamby
Spotlight and Interaction:
Sharon Hollamby, Author
Bronwen James, Director
Judy Avisar, Gambling Project Worker, Link Health and Community, Monash
Growing Communities of Concern
Dr Susan Rennie, Whittlesea Interagency Taskforce on Gambling
Rebecca Sirianni, Social Planner, City of Whittlesea, Victoria
Spotlight and Interaction:
CALD Gambling Help Action Plan: Enaam Oudih, Practice Manager PEACE Multicultural Services, Relationships Australia SA
Nichola Kapitza, Manager Community Planning & Vitality, City of Salisbury
The Challenges
Bruce Williams, General Manager City Services, City of Charles Sturt
David Caruso, Director, Litigation Law Unit, University of Adelaide
Mark Henley, Manager Advocacy and Communications, Uniting Communities and Australian InterChurches Gambling Taskforce
Including contributions from keynote and other speakers
This event is currently closed and no contact details are available