Sen Sekai Holland reception in Melbourne
The Zimbabwe Information Centre (Melbourne)
invites you to a reception to support the Zimbabwe National Peace Trust (ZNPT)
The Zimbabwe National Peace Trust was formed by 30 non-government organisations in Zimbabwe to promote peace and democracy through Household-Based Development in local communities. Senator Sekai M Holland is one of its patrons.
Senator Holland is committed to peace, reconciliation and democracy in Zimbabwe. She is famous world-wide for her courageous personal opposition to brutal and anti-democratic forces in Zimbabwe.
Special Guests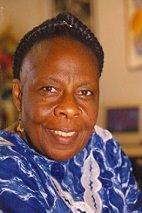 Senator Sekai M Holland
French Légion d'Honneur 2011, Sydney Peace Prize 2012, Honorary Doctor of Letters UTS Sydney 2013, Advanced Global Alumni recipient 2014 and other awards
Jim Holland
Engineer and founder of the FairGo4Kids, a ZNPT project working through local and international organisations to improve children's lives in isolated communities where a quarter of the children are orphaned
Wednesday, 28 October 2015
6.30 to 8.00 p.m.
Light refreshments served
RSVP by 26 October 2015
Venue
Maurice Blackburn, Level 10
456 Lonsdale Street
Melbourne, Victoria 3000
Contact Details:
Clare Gallagher clare.gallagher@iinet.net.au 0411 404 124
Michael Little schrodi@bigpond.com 0409 66 99 18
This event is currently closed and no contact details are available