Hollywood's First Australian
Film historian David Donaldson talks about the career of JP McGowan, the trail-blazing Australian actor and filmmaker who fought in the Boer War and came home via America – but never made it past Hollywood where he first acted in and then directed in a career that survived the transition from silent to talkies, and saw him direct over 200 film, giving John Wayne one of his first roles.
Guns and Guitars (16mm, 1938, 57mins, PG)
McGowan plays the bad guy to Gene Autry, who gets framed for murder and, after clearing his good name, gets himself elected sheriff to go after the original villain.

When: Wednesday 24 February 2016
Lecture at 10am, 'Guns and Guitars' screening at 11am

Where: NFSA Arc Cinema, National Film & Sound Archive, McCoy Circuit, Acton, ACT 2601 map

Prices: Free admission for both lecture and film.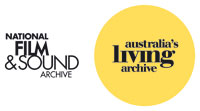 For more information:
National Film & Sound Archive
McCoy Circuit, Acton ACT 2601
Tel: (02) 6248 2000
enquiries@nfsa.gov.au

Visit the NFSA at www.nfsa.gov.au
This event is currently closed and no contact details are available