Creative Workshops 2016 Term 1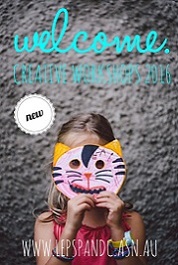 Lindfield East Public School
CREATIVE WORKSHOPS PROGRAMME 2016
Term 1
Bookings Open 28/01/16 at 8.00pm
Classes commence in week 2, Term 1
Monday 8 February to Friday 8 April
For FAQs click here
Please note the changes to Creative Workshops:
Bookings will be taken term by term.

Creative Workshops will run until the last week of term.

You are required to follow the sign in/out protocol.

All classes will run for one hour.
The Creative Workshops Programme is run by LEPS P&C.
Kindergarten children are generally discouraged from starting CW programs.
We have found that after a long school day the younger children are too tired to participate. However, if you are considering joining CW please consult your child's teacher, as there is no refund once the workshops have commenced.
Thank you for your patience as we finalise the program.
Please note also:
Bookings are taken on a first to register basis. Except in exceptional circumstances and at the absolute discretion of Creative Workshops and tutors, there will be NO REFUNDS NO CHANGES TO COURSE PREFERENCES, DATES OR TIMES ACCEPTED. If the course is full and there is a waiting list we may refund the unused portion less admin fee. This is at the absolute discretion of the Creative Workshops Committee.
Children must be signed in and out of classes as per the policy. There is no requirement for sign in to classes straight after school at 3.20pm and no requirement for sign out for the 8.00am classes. Click here for the policy.


Creative Workshops are not responsible for taking children to/from Before and After School Care. Parents need to make their own arrangements with BASC or another Parent. Only before school soccer and running at Tryon are the children are walked back to school by the teachers.


The Creative Workshops Manager reserves the right to cancel a course if there are insufficient numbers to make the course viable. Parents will be contacted as soon as possible and a refund arranged.



Code of Care and Respect applies to Creative Workshops. Any abusive behaviour by either the parents or students will result in the students exclusion for the remainder of the course, with all monies paid being forfeited.
We primarily contact parents via email and phone. Tutors are given these details as part of the class role. You are responsible for ensuring we are notified of changes to your emergency contact numbers/email address via creativeworkshops@lepspandc.asn.au Unexpected changes in time or venue will usually be advertised on skoolbag and/or via email.
No hat no play policy applies to all outdoor activities. All classes are on regardless of weather. On rainy days, children are to meet their tennis coach outside the library. Please collect your child/ren from outside the library at the end of their session. Soccer and running coaches will advise separately wet weather plans. There will not be "make-up" classes in the event of bad weather.
Please ensure you have your Tutor's contact details. It is helpful to let your tutor know if your child is not attending a class.
Please collect children promptly from their activities.

Tutors have other classes to teach. If you are running late, please organise a friend to collect your child. Late Fees will apply.
All classes after school will begin at 3.20pm and Tutors will take the roll. Please text your tutor if your child is not attending. Please turn your phone on in case we need to call you.
There are no Creative Workshops on public holidays, all day stop work meetings, or other unforeseen regular school cancellations. All prices are pro rata for public holidays. Any doubts please check our website or email via

creativeworkshops@lepspandc.asn.au
Creative Workshops will run until the last week of term.
Questions? Please contact us at
creativeworkshops@lepspandc.asn.au or

Kate Jegat - Creative Workshops Manager
Kate is available on 0422 155 845 between 2.30pm and 5.30pm during terms.
We will respond to email queries as soon as possible. Thank you for your patience.
This event is currently closed and no contact details are available