Whey up high with Will Studd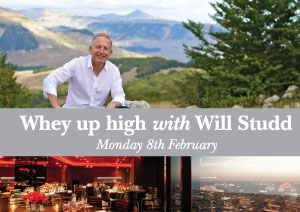 Whether a lover of Camembert, Cheddar or Roquefort, there will be something for every cheese devotee at Will Studd's cheese masterclass, which will be held in conjunction with Eureka 89 and Harper & Blohm cheese shop.
Will Studd is a world-renowned cheese expert, author, and the producer and presenter of television series Cheese Slices. Studd has been working with specialist cheese for nearly four decades and has travelled extensively to discover and share the world's best cheeses.
Olivia Sutton, the owner of Harper and Blohm Cheese Shop, has built a successful career working for some of Melbourne and Ireland's finest cheese wholesalers and retailers. This event is a celebration of the second anniversary of her Essendon speciality cheese store.
At a staggering 300 metres above sea level, Eureka 89 is a spectacular location for Will Studd's masterclass, which will also feature quality matching wines.
The opportunity to learn from Australia's most celebrated cheese master is not to be missed.
Monday 8th February, 6.30 -9.30pm


Dress code: Smart Casual
Parking is available at the Eureka Wilson's carpark at the base of the tower. On the night we can validate this to a reduced flat rate of $6
* Tickets non-refundable,
Patrons must be 18+,
Eureka 89 practices Responsible Service of Alcohol, Prices include GST
This event is currently closed and no contact details are available