2016 RANZCO Victorian Branch Meeting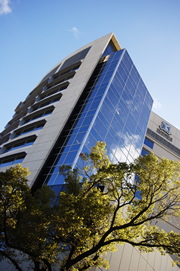 2016 RANZCO Victorian Branch Scientific Meeting
Saturday 5th March, 2016
'Advances in Imaging'


Woodward Conference Facility. 10th Floor, Melbourne Law Building 106, 185 Pelham St Carlton
Dear Colleagues

The Victorian branch scientific meeting of the RANZCO aims to bring together the ophthalmologists and trainees of Victoria, as well as specialists from outside Victoria for a day of collegiality and learning in a comfortable environment.

Building on the success of the 2015 meeting in the beautiful Woodward Centre at the University of Melbourne's Law School, we are delighted to return to the same venue on 5th March 2016. In 2016 our focus will be on breakthroughs in ophthalmic imaging. The following speakers will be leading our discussion on ophthalmic imaging:
A/Prof Michael Goggin (Adelaide) - Improving refractive outcomes by posterior corneal imaging
A/Prof Celia Chen (Adelaide) - Neuroimaging and OCT of the optic nerve head in neuro-ophthalmology
A/Prof Fred Chen (Perth) - OCT-Angiography and Adaptive Optics in retinal disease

Dr Jacqui Beltz - Advances in corneal imaging
Dr Brian Ang - OCT imaging of the anterior chamber in glaucoma
Dr Simon Skalicky - imaging of the optic disc in glaucoma
Dr Xavier Fagan - imaging in uveitis
A/Prof Wilson Heriot - retinal oximetry in retinal vein occlusions
A/Prof William Campbell - wide-angle fluorescein angiography in retinal vascular disease
Dr Harry Lew - imaging the world; art and visual processing.
The Victorian branch meeting has always been a forum for Victorian ophthalmologists to teach each other. We welcome proposals for abstracts. These do not have to have imaging as a theme. Abstracts can come from registrars, residents and medical students as well as from ophthalmologists. Abstracts based on research which the author has participated in, or where the author is summarizing an advancing area of ophthalmology will receive preference. Abstracts may be of general interest, or of interest to subspecialists in a particular area.
Abstracts, indications of interest, or questions pertaining to presentations should be sent to andrewsymons@gmail.com with 'RANZCO Vic branch meeting 05/03/2016 abstract' in the subject line.
The Conference dinner will commence at 7.00pm at Taxi Kitchen (Private Dining Room), Federation Square, Melbourne)
Andrew Symons, on behalf of the organising committee
Conference Organiser:
Esther Gmelig 0417 544310 Email: gmeliga@eftel.net.au
This event is currently closed and no contact details are available