The Melbourne Musicians: Ah, Vienna!
The Melbourne Musicians: Ah, Vienna!
Ksenia Belenko, violin

Eduard, Johann & Josef Strauss Waltzes and polkas

Massenet - Meditation from Thais

Dreyfus - Love Your Animal

Schubert - Marche Militaire

Haydn - Symphony No 45, "Farewell"

The Melbourne Musicians pay tribute to the Viennese heritage of Artistic Director Frank Pam with the music of Eduard Strauss, youngest son of Johann Strauss Snr., in honour of the 100th anniversary of his death in 1916.
Like his elder brother Josef, Eduard Strauss has been overshadowed by the enormous worldwide popularity of his older brother Johann Strauss Jnr.
He is mainly known for his short lively works, especially the polkas, but his 300 compositions include many other attractive pieces such as waltzes and quadrilles. We present a selection of these, most of which are rarely heard, as well as some music by Josef and Johann Strauss.
We will also play the very popular Marche Militaire by Franz Schubert, the only true Viennese amongst all the great composers who lived in Vienna.
Short interludes are provided by the beautiful Meditation from Thais by Jules Massenet, (a contemporary of Eduard Strauss) played by talented young violinist Ksenia Belenko, and "Love your Animal", a sweet piece by Melbourne composer George Dreyfus, written for the 125th Anniversary of the RSPCA.
The concert concludes with Joseph Haydn's famous Symphony No.45, "Farewell", which cleverly persuaded Prince Esterhazy that his court musicians were keen to take a holiday and return to their families in Vienna.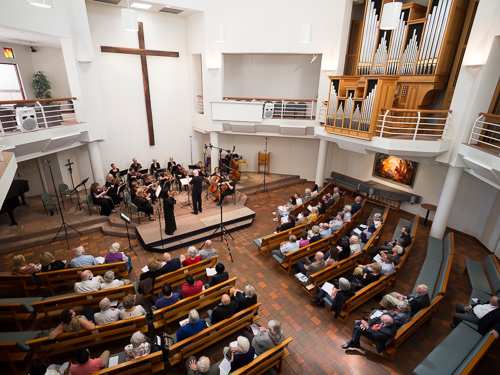 3 pm, Sunday 13 November

St Johns Southgate

20 City Road

Southbank, VIC 3006
This event is currently closed and no contact details are available