'Fjord' Briana Cowlishaw & Gavin Ahearn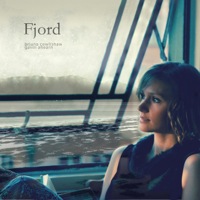 Thursday 11 February
A project born out of the hypnotically picturesque hills of Norway, Briana Cowlishaw and Gavin Ahearn come together to create an equally mesmerising performance. Their latest release 'Fjord' is a duo album recorded in Nesna (Norway) October 2014, which captures a true sense of free and honest expression. Stripped back to piano and voice (and trumpet on 1 track), the album presents a collection of their own compositions and a number of refreshing arrangements of their most loved pop and jazz standards ('Fool on the Hill', 'Stompin' at the Savoy').
Both on stage and in recording, Briana and Gavin seem to trail in and out of improvisation and structure, exhibiting an instinctive empathy for each others musical inclinations. They have been touring, teaching and performing together over the past 5 years in Asia, Europe and Australia, working on a multitude of projects ('The Wires Project', 'Briana Cowlishaw Band' and most recently 'The Helgeland Suite'). Maybe it's the years they have played together, maybe it's a mutual understanding on what they most appreciate about making music; either way the performance speaks for itself.
The album launch performance will feature Gavin and Briana performing a duo set of songs from the album, which will then be followed by a set of music with full band
Bookings close at 4pm on the day.
Tickets may be purchased at the door subject to availability.
No refunds or exchanges

DOORS OPEN AT 6pm for cocktail hour, dining and best seating.
(80% seated, 20% standing)
Two sets from 830pm until 1130pm (approximate)
505 reserves the right to sell unredeemed tickets after show time commences.
Venue
Venue 505
280 Cleveland Street
Surry Hills
Sydney, NSW 2010
Contact Details:
c20dog@me.com
This event is currently closed and no contact details are available