The Keys to a Wildly Successful Business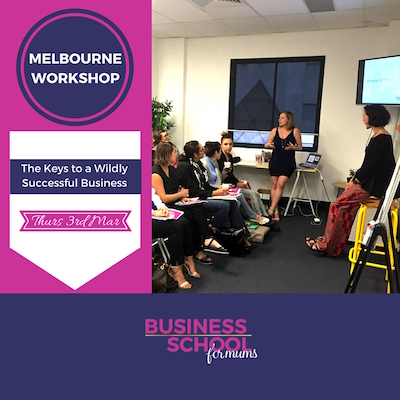 Business School for Mums presents an interactive 2 hour work shop for Mums in Business.
Learn the keys to success, how to beat the small business odds and how to drive your business with an entrepreneur's mindset.
Join us for just $22, and enjoy a glass of champers as you learn how to drive your business forward in a relaxed and intimate setting.

On Offer:
- An interactive 2 hour work shop - valued @ $800+
- Champers & canapés so you can enjoy a night out whilst you learn
- A personal Q&A to have all your business questions answered
- An opportunity to network with other Mums in Business
- PLUS there's a chance for you to win one on one business coaching package valued @ $1k
You'll Learn:
- The Mistakes most Small Business owners make
- The Keys to a Widely Successful Business
- The Power of your Mind to affect your results
- Your Success Checklist
- Much more
Who this if for:
- Mums starting out in small Business
- Mums 2 years in looking to improve their results
____________________________________________________________________________________

Event Details
7.30-9.30PM on the
3rd of March
This is for people serious about driving results in their business.
Venue
The Family Room
Inspire9
1/41 Stewart St, Richmond
Melbourne, VIC
Anna and Flori 1-300-634-230
www.businessshcoolformums.com.au
info@businessschoolformums.com.au
This workshop sold out in Sydney in just 1 week!!! So ACT FAST!
This event is currently closed and no contact details are available