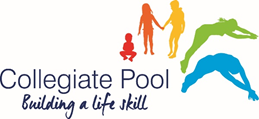 Welcome to Collegiate Pool's Learn to Swim Program!
 FIT SQUAD 
 
Fit Squad is designed to provide further development in swimming technique and increase additional fitness training. The squad is structured to offer flexible training times throughout the term with four sessions a week to choose from.
What makes students eligible for Fit Squad?
Students whom have been assessed as Mini-Squad or Junior Squad are eligible to enrol in the Fit Squad program. New clients will be required to organise a free assessment prior to enrolling. 
How do I enrol my child in Fit Squad?
To enrol into the Fit Squad program please contact 6211 4919 & staff at the Collegiate Pool will be able to assist with your booking.
Fit squad caters for:
· Continued development of swimming skills beyond Mini-Squad
· Use of  swimming training to increase fitness
· Develop aerobic conditioning for additional sports
· Increase swimming abilities without attending competitions or joining a swimming club or  Tasmanian Swimming.
Session times:
Tuesday – 6:30am – 7:30am
Wednesday - 5:00pm - 6:00pm
Thursday – 6:30am – 7:30am
Thursday – 5:15pm – 6:15pm 
Saturday – 8:00am – 9:00am 
Please ensure you have read all Terms and Conditions, listed below, before continuing with your booking.  Thank you.
Learn to Swim Terms and Conditions: 
·         Unfortunately no refunds, credits or alternative classes will be available for missed classes.
  ·         Changing classes will involve a $10 transfer fee.
 ·         Collegiate Pool have the right to cancel classes if there are an insufficient number of students enrolled in the class. (3 or less students)
 ·         Instructors are subject to change. (Management work towards this not occurring)
 ·         Students are ineligible to participate if full payment has not been received prior to the commencement of the first lesson.
All students MUST have an assessment and certificate outlining their level before booking an enrolment.
There is NO Refunds for purchases made through online payment - Please be SURE you have selected the appropriate grading and day/time before completing purchase.
If you book the attendee into an unapproved grading we reserve the right to cancel your ticket.
MAKING YOUR BOOKING
When you reach the Booking Details page, please enter the information as shown below.  This will  assist pool staff in issuing your Learn to Swim card

Example Only   

St Michael's Collegiate School Privacy Policy
Make a booking, click below
Resend tickets to your email address.
Contact the event organiser.
You can review the event organiser's terms and conditions here.
Contact name: Collegiate Pool
You can review the event organiser's terms and conditions here.
If you can't find your tickets, click here.
Your email has been sent.
The organiser will be sent the details of this message.

Sorry, there appears to have been an error. Please try again later.