Australasian Christian Legal Convention (ACLC) 2016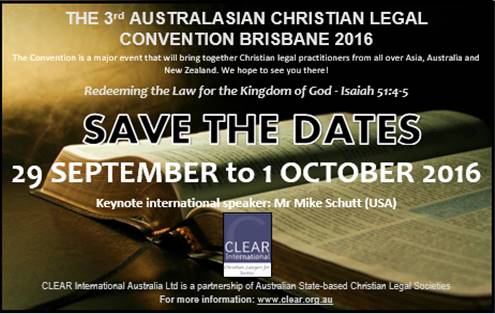 Description
Tickets for the 2016 Australasian Christian Legal Convention are now available. Lawyers and law students from Australia, New Zealand and Asia are warmly invited (indeed from anywhere around the world). The theme of the Conference is 'Redeeming the Law for the Kingdom of God' and will be held in Brisbane from Thursday 29th September to Saturday 1st October 2016. The event will provide an opportunity for Christian Lawyers and Law students at all different stages to collaborate and fellowship in thinking about our role in the Kingdom of God.
The following streams will be offered.
Being a Christian Lawyer

Religious Freedom

Peace Making

Slavery/Trafficking/Refugees

Not-for-Profit Law
Later in this booking process you will be asked to indicate your preferred stream. Please note this preference is not binding, but indications are sought for room allocation purposes.
Keynote Speaker: Mike Schutt
For information about all other speakers and biographies, please see http://clear.org.au/aclc2016/
Registration Deal
Registration includes: A reception cocktail function on Thursday night, the Gala Dinner (national dress optional) on Friday; Lunch, Morning and Afternoon Tea as per program; attendance at all sessions; all official documentation including Program; and access to discounted accommodation rates at the Mercure Hotel, 85-87 North Quay, Brisbane City.
Ticket prices and full terms and conditions are contained at a later stage in the booking process. Please note conference prices are not subject to GST. Also prices currently displayed are early bird prices which will expire on the 30th of June.
If your spouse or partner wishes to attend the Gala Dinner please email info@clear.org.au for further information.
Lawyers should consider whether attendance may contribute towards satisfaction of their Compulsory Professional Development requirements in their local jurisdictions.
Accommodation
Modern accommodation at the Mercure Hotel Brisbane (85-87 North Quay, Brisbane) in the heart of the city has been secured at a discounted rate of $175 AUD per night (twin share). Please note the cost of accommodation is not included in the registration fee. All bookings must be made individually through Mercure at http://www.mercure.com/gb/hotel-1750-mercure-brisbane/index.shtml. To obtain the discounted price, indicate in your booking for this conference your intention to stay at the hotel. You will need to make bookings independently with Mercure, expressing to reservations that you are a part of the Clear International group (to obtain the discount). The 'block code' is NTL290916. Bookings of rooms must be made at the latest 30 days before the conference, otherwise the discounted rate may not be available.
Contact Details:
Annabelle Jacob
Phone: 07 3837 3600
Website: clear.org.au
Email: info@clear.org.au
Address: GPO Box 649, BRISBANE QLD 4001
This event is currently closed and no contact details are available