Peter Collins Memorial Organ Recital



Peter Collins Memorial Organ Recital
Sunday 15
th
May 2016 2pm
Toorak Uniting Church, 603 Toorak Road, Toorak VIC 3142
This concert will celebrate the life of organ builder, Peter Collins, who died on 24th October 2015.
Peter Collins was an English organ builder based in Leicestershire. He founded his company in 1964. The company has built pipe organs in many countries, various counties in Europe, in the UK, in North America, in South Korea, and in Australia.
Between 1977 and 1980, Collins built 10 instruments from box organs with 3 stops to large instruments for churches and conservatorium for Australia. The pipe organ in Toorak Uniting Church has two manuals and 34 stops, it is the largest among the 10 Collins instruments in Australia.
To honour Collin's work in Australia, Jennifer Chou and guest organist Colin Andrews (USA) will give an organ concert on Sunday 15th May on the Peter Collins organ. They will perform organ works for solo and for 4 hands.
Born in Bristol, England, multiple award winning Colin Andrews is an active teacher and lecturer. He has performed as a soloist worldwide in all the continents except Antarctica! He also has served as a jury member for many international organ competitions around the world. He was on the Faculty of Organ and Sacred Music Studies at Indiana University until 2015. It is a great privilege and opportunity for everyone in Melbourne to hear Colin in May.
Jennifer Chou is Director of Music at Toorak Uniting Church. She was trained in Hong Kong, the USA, and in France. She has performed as solo recitalist in Cathedrals in Europe, Australia, and in New Zealand and in major town halls in Australia. This year she is the guest soloist for the International Bamboo Organ Festival in Las Pinas, the Philippines, and is one of the recitalists for the All Stops Out lunchtime recital series at Monash University. She instructs the organ at Melbourne High School, and is a Suzuki Organ teacher.
Program includes:
A Fancy for Two to Play by Thomas Tomkins
Variations on an Easter theme by John Rutter
Praeludium in G Major by Nicolaus Bruhns
Prelude and Fugue in G Major BWV 541 by J.S. Bach
"Variations de Concert" by Joseph Bonnet
Three Royal Fanfares by Sir Arthur Bliss

Our concert ticket price has not increased for 3 years, in fact, due to the obligatory GST charge, the base ticket price has been effectively reduced this year.
Please scroll down and click the green button on the lower right hand corner for ticket purchase. Online ticket price includes GST and online ticket processing fees.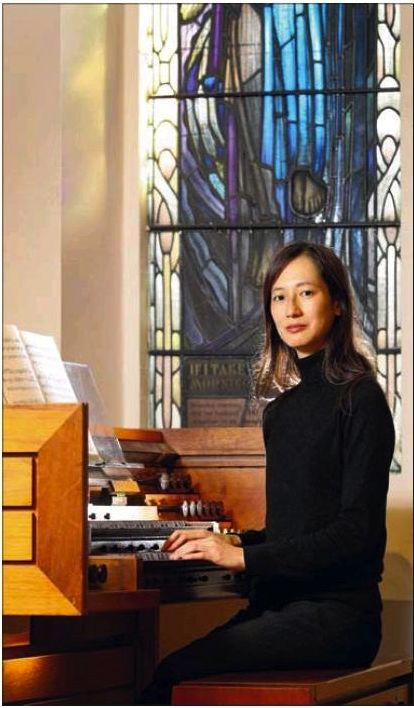 This event is currently closed and no contact details are available