ORCHESTRA VICTORIA QUARTET - "WARATAH"
"ORCHESTRA VICTORIA QUARTET"
Jason Bunn - Viola Melissa Chominsky – Cello Tomomi Brennan - Violin Yi Wang - Violin

Saturday 27th August 3pm (doors at 2.45)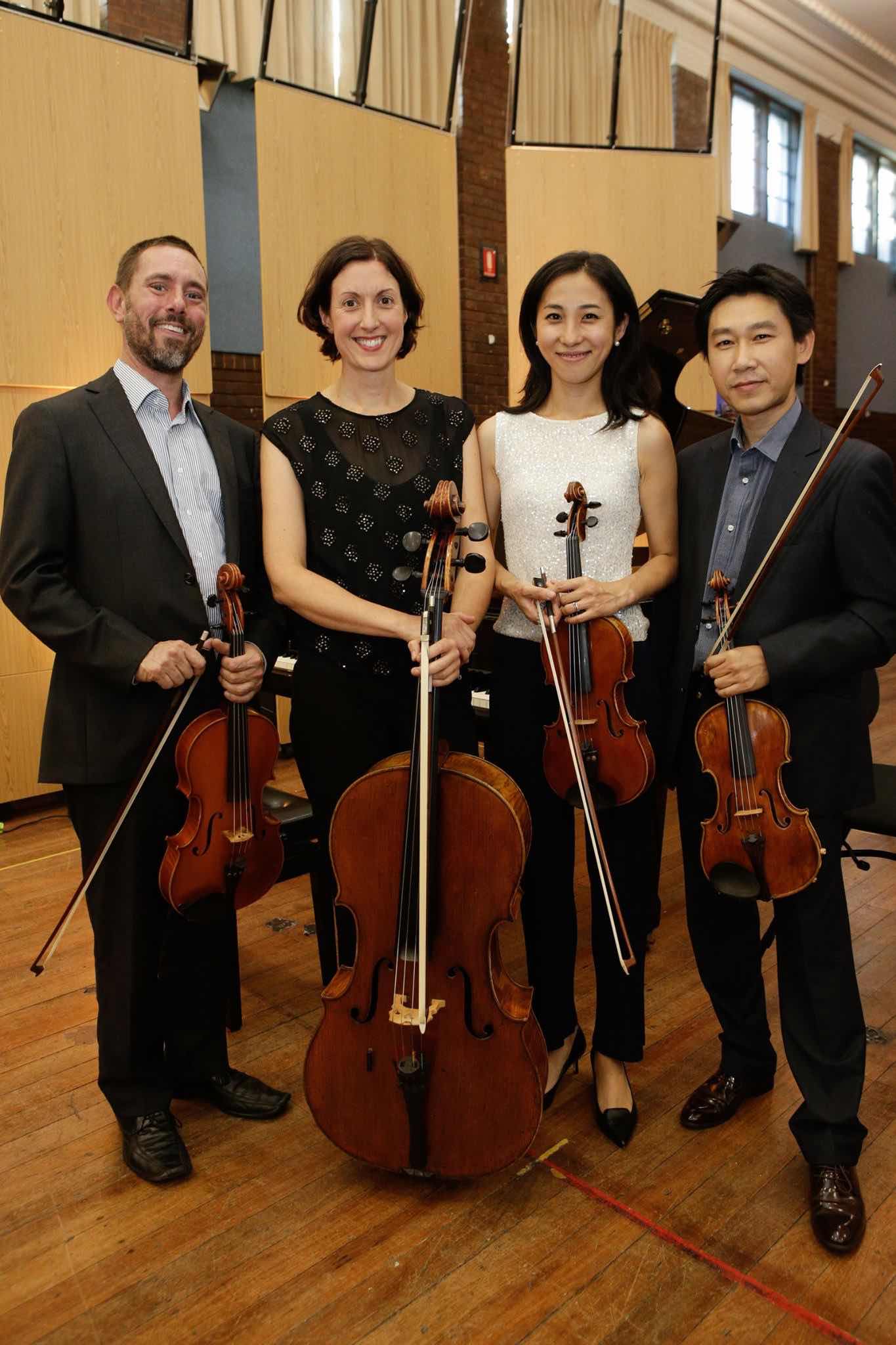 Four members of ORCHESTRA VICTORIA combine to form
the "WARATAH" Quartet for a very special one off show at The G.R.A.I.N Store.
(See below for full bios and interesting artist histories)

Venue
The GRAIN Store
24-26 Blake Street
Nathalia, Victoria 3638
Contact Details:
The GRAIN Store. 24-26 Blake Street Nathalia 3639.
Open 11am-4pm Thursday-Saturday. In store hours 0403756571.

Photo Credit: LUCAS DAWSON
Yi Wang, Violin

Yi is a prize winner in both Chinese National violin competition and Rudolf Lipizer International competition held in Italy.After completing his undergraduate study at the Beijing Central Conservatory with Prof. Zhi Long Wang. Yi traveled to London to continue his postgraduate course with the world renowned violinist and educator Yfrah Neaman.He was awarded the prestigious 'concert recital Diploma-Premier Prix' in 1994, and in 1995 was offered the position of Assistant Concertmaster with the Welsh National Opera.
Yi came to Australia in 1997 to join the Australian Chamber Orchestra, From 2001-2007 he was Principal First Violin with the Tasmanian Symphony Orchestra, with whom he was also Acting Concertmaster and Associate Concertmaster. Yi was director and leader of Virtuosi Tasmania chamber Orchestra and also led Melbourne Symphony Orchestra and Orchestra Victoria on many occasions. In 2008 he moved to Melbourne to join Orchestra Victoria as Principal Violin, and he currently holds the Acting Deputy Concertmaster position.
As a soloist Yi has performed with Tasmania Symphony Orchestra, Orchestra Victoria, Moldova Symphony and Chinese youth Orchestra, and has given recitals in London, Beijing, Sydney, Melbourne Weimar, Hobart, Suffolk (UK) and Hangzhou (China).


Tomomi Brennan, Violin


Tomomi Kondo Brennan is an active performer in solo, chamber music, and orchestral settings. Prior to moving to Australia where she is Associate Principal Violin in Orchestra Victoria, Tomomi was a member of the Winnipeg Symphony Orchestra (Canada) and the Hyogo Performing Arts Center Orchestra (Japan). She has also performed with numerous other leading ensembles around the world, including the Melbourne Symphony, Osaka Symphony, Kyoto Symphony, and Kyoto Philharmonic Chamber Orchestra.

As a soloist and chamber musician, she has performed in Australia, Japan, the United States, Canada, the Philippines, and Poland. Under the auspices of Osaka AIS, Tomomi has toured the Kansai region of Japan appearing in solo recitals and chamber music series.

Tomomi's formal music studies were in her native Japan with Ryoko Tanabae and Régis Pasquier. She also studied extensively with Gérard Poulet at the Académie de musique française de Kyoto, Daniel Gaede at the Kirishima International Music Festival, and at the Fryderyk Chopin University of Music.


Jason Bunn, Viola

Jason Bunn has held the position of Tutti Viola in Orchestra Victoria since 2000, and is often called upon to play Associate Principal Viola.
Jason studied at the University of Melbourne with Christopher Martin and Spiros Rantos between 1988 and 1992. Before joining Orchestra Victoria he performed with the Melbourne Symphony, Tasmanian Symphony, and the Australian Opera and Ballet Orchestra. As a chamber musician, he performs regularly with the Euchordos Quartet and the Parkville Ensemble, as well as playing for contemporary ensembles including Elision, Aphids and Topology.
In 2007 Jason spent a year in Europe, having some tuition from Garfield Jackson of the Endellion String Quartet, and working with the Holland Symfonia, the Rotterdams Kamerorkest and the Oldenburgisches Staatsorchester.
He also has a keen interest in folk and country music, playing with several local bands and songwriters. His latest band "Jemma and the Clifton Hillbillies" received a nomination for best country album in the 2015 Age Music Victoria Awards.


Melissa Chominsky – 'Cello

Melissa Chominsky's musical training began at her local primary school in Brisbane where she sang in the highly successful choir and vocal group. At the age of eight Melissa began learning the cello after her older sister convinced her that it was better than the clarinet!
When her family moved to Sydney Melissa was fortunate to continue cello with Dorothy Sumner under whose tuition and care she thrived. She went on to study cello at the Sydney Conservatorium of Music with Susan Blake and Lois Simpson. During this time Melissa was awarded a British Big Brother Movement Award which gave her the opportunity to study in London with William Pleeth and Raphael Wallfisch.?In 2000 Melissa was awarded a Queen's Trust Award which enabled her to further her studies in Germany. She studied with Prof. Martin Ostertag at the Staatliche Hochschule fuer Musik Karlsruhe and completed a Diplom K.A receiving First Class Honours for her cello and chamber music recitals. During this time she performed regularly with the Dusseldorfer Symphoniker, Badische Staatskapelle, Staatatheater Stuttgart and the Schleswig-Holstein Orchester. Highlights include working with Christopher Eschenbach, Esa-Pekka Salonen, Heinrich Schiff, Yo-Yo Ma and travelling throughout Europe.
Since returning to Australia in 2005 Melissa has performed with the Australian Chamber Orchestra, the Melbourne Symphony Orchestra (including the European Tour in 2007), as guest principal with the Tasmanian Symphony Orchestra and the Melbourne Chamber Orchestra. She has also appeared as guest artist with the MSO chamber players and soloist with the TCSO and Orchestra Victoria.

Since 2008 Melissa is has been Principal Cellist of Orchestra Victoria.




This event is currently closed and no contact details are available