Ken Duncan's Mastering Digital Photography Seminar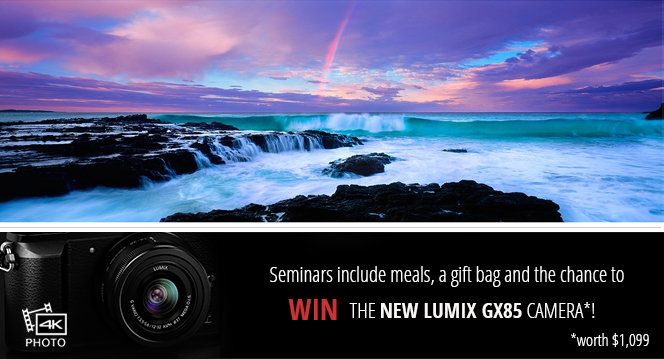 Learn how to master digital photography with LUMIX legend Ken Duncan
Ken Duncan's new Mastering Digital Photography seminar will cover absolutely everything - from which camera is right for you, through to which accessories you may need, and what settings to use for a variety of subjects and conditions. Whether you're a keen beginner or a more advanced photographer, after spending a day with this photography master, you will be better equipped to produce outstanding images.
Ticket price of $249.75

includes tea and coffee on arrival, morning and afternoon tea, lunch and a gift bag containing free gifts, discount vouchers and useful information and tutorials. And one lucky person at each venue is going to win a Lumix camera worth $1,099. It could be you!

FIND A SEMINAR NEAR YOU:







ADELAIDE

Saturday 30 July, 2016
9AM to 5PM
Intercontinental Hotel
North Terrace

MELBOURNE

Saturday 6 August, 2016
9AM to 5PM
Langham Hotel
1 Southgate Ave, Southbank


TERRIGAL

Saturday 3 September, 2016
9AM to 5PM
Crowne Plaza Hotel
Pine Tree Lane, Terrigal







SYDNEY

Saturday 10 September, 2016
9AM to 5PM
Novotel - Sydney Olympic Park
11 Olympic Blvd, Sydney Olymp. Pk.

BRISBANE

Saturday 17 September, 2016
9AM to 5PM
Convention & Exhibtion Centre
Merivale Street, South Brisbane

PERTH

Saturday 8 October, 2016
9AM to 5PM
Pan Pacific Hotel
207 Adelaide Terrace, Perth



What will I learn?
• What camera types are available – plus the pro's and con's of each format
• The 'standard' lens for each format
• Which lenses work best for different subjects – and which are right for your needs
• Why lenses have different apertures
• How to discover the "sweet spots' of your lenses
• All about ISO – when to increase, when to decrease, and what is optimum for your camera
• Which accessories you need and which you don't
• How to set up your camera – aspect ratio, metering modes, focus patterns, picture settings, custom menus, and more
• The importance of being patient and waiting for the ideal light
• Why the right gear is more important than the latest gear
• The best way to avoid the corndog look in portrait photography
• How to find your portrait subject's most flattering angle and help them relax
• Critical tips for photographing children and events
• The elements of a great lifestyle portrait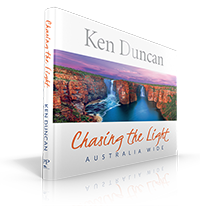 Ken Duncan is well known as the pioneer of Limited Edition Photographic Art in Australia. After a visit to New York in the early 1980's, Ken returned home with a dream to have photography widely accepted as an art form in this country. The increasing number of Australian photographers now emulating his panoramic style and finding a market for their work is testimony to Ken's success. Ever the trend setter and still the market leader, Ken is deeply committed to researching and developing the latest and best technology to bring photographic art into homes and offices right around the world.
With every new release he delights long-time collectors and new fans alike with his own inimitable style of landscape photography. Each new exhibition is more vivid and stunning than the last.
How good are the seminars?
Here's what some people said about my previous seminars:
"Although an experienced photographer, I learnt how much I don't know. So much material delivered in such an easy to comprehend way. Inspirational!"

Jonathan - Asquith, NSW
"A fabulous workshop with so much to learn, regardless of experience level." John – Brisbane, QLD
"If you're going to do a photography course, why not learn from the best!" Andrew – Bankstown, NSW
"As a hobbyist with no training, I thought a lot of the content would be over my head, but was detailed enough to be valuable and not confusing." Jeff – Mango Hill, Qld

CONTACT DETAILS
Debbie Iverach - 02 4367 6777
This event is currently closed and no contact details are available