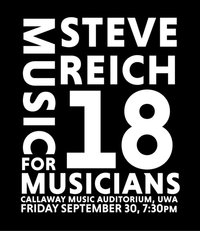 Steve Reich
is hailed by The New York Times as "our greatest living composer" for his contributions to postmodern music.
His seminal work Music for 18 Musicians is one of a handful of twentieth century chamber music works that can rightly claim to have altered the course of Western art music, taking listeners and performers on a sonic journey that changes one's perception of time, rhythm and melody.
This performance featuring staff and students of the School of Music celebrates the fortieth anniversary of this minimalist masterpiece.
Date & Time
Friday 30 September 2016, 7.30pm
Tickets
$25 Standard
$20 Concessions
$18 Friends of the UWA School of Music
Venue
Callaway Music Auditorium
UWA School of Music
35 Stirling Highway
PERTH, WA 6009
Contact Details
concerts@uwa.edu.au
6488 7836