NEW HORIZONS | PREMIERE CONCERT 29 JUL 6:30PM @ THE WESTIN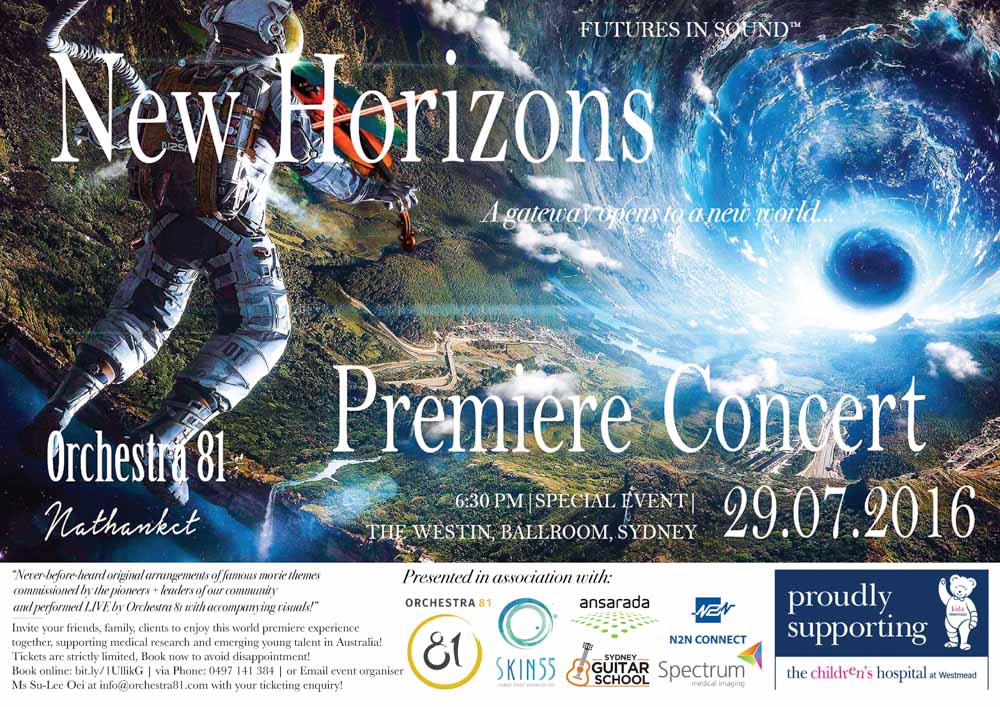 Ladies and gentlemen, Welcome; To NEW HORIZONS | FUTURES IN SOUND™

Orchestra81 is proud to present its premiere concert and corporate networking event, New Horizons: Futures in Sound™ at 6.30 pm on Friday, 29 July 2016 in The Grand Ballroom, The Westin Hotel, 1 Martin Place, Sydney.

About the event
The event will be unlike any other, bringing together corporate leaders to network and showcase some of Australia's greatest young instrumentalists, musicians and performers. In addition proceeds from the event will raise funds in support of heart research for the Children's Hospital at Westmead.
Corporate leaders will have the opportunity to establish synergy across industries – building new connections and partnerships across traditional industry divides – in a relaxed setting. Represented at the event will be corporate leaders from industries such as:
Financial services

Healthcare

Technology

Business services

Humanities
Following a networking reception with cocktails and canapes, Orchestra81 will transport the audience on a delightful excursion to the movies. The orchestra will perform original arrangements of the world's most popular and famous movie themes as well as the world premiere of the original major work "New Horizons".
Each piece of music performed on the night is personally chosen by a select group of corporate leaders and specially arranged by guest creative artist and performer NATHANKCT working closely together with the incredibly talented members of Orchestra81.
Special guests for the evening include Professor David Winlaw from the Heart Centre for Children at the Children's Hospital at Westmead and Adjunct Professor Brian Bissaker from Sydney University Business School. They will share with you insights from their personal leadership experiences.
How to Book
With limited places, book now to secure your place at this special, world premiere event. Find out what songs were chosen by each of the selected leaders!
About Orchestra81 and NATHANKCT
Orchestra81 is part of a collective initiative, which aims to provide young musical talent with the opportunity to create and share unique, original and positive experiences together with others. Every member of the orchestra has honed their talent with many of the greatest artists in the world, including mentorship and study at the Sydney Conservatorium of Music.
For the NEW HORIZONS experience, Orchestra81 joins forces with guest creative and artistic director NATHANKCT. Following on from two sold-out concerts at the Sydney Opera House in April 2016, which featured original piano and vocal arrangements of music played live to accompanying on-screen visuals, and a current online following of over 140,000 people from all over the world, Nathan's passion is working together with others to create and share one-of-a-kind stories and experiences with others. He will be touring South East Asia later in August with the international star vocalist JOELLE.
_____
Event organiser: Su-Lee Oei on 0497 141 384 or email: info@orchestra81.com
Presented in Association with ANSARADA®, N2N Connect® Australia, Sydney Guitar School, Spectrum Medical Imaging, SKIN 55 Harley Street Dermatology, Afiniation, Gennaker DS Limited, JIDA Capital, CIO in the Boardroom
This event is currently closed and no contact details are available