Shirazz Jazz + Hugh Parsons & Callum Unger from the JMA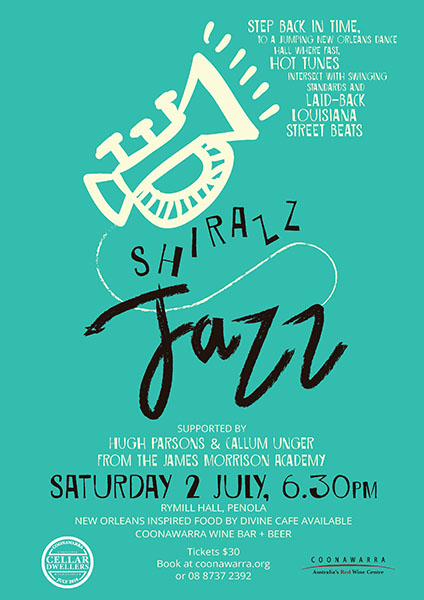 Coonawarra Vignerons presents Shirazz Jazz; one of Melbourne's premier jazz bands specialising in classic hot jazz of the 20s and 30s. Great solos, driving rhythms and tight arrangements; a set from Shirazz is a step back in time to a jumping New Orleans dance hall where fast tunes intersect with swinging standards and laid-back Louisiana street beats.
Hugh Parsons & Callum Unger from the James Morrison Academy in Mount Gambier will kick off the night.
Delicious New Orleans inspired food will be available for purchase, along with a selection of great Coonawarra wine, and beer.
On the next page, choose from a General Admission ticket, or a seated ticket.
Venue
Rymill Hall
Cameron Street
Penola, SA 5277
Contact Details:
08 8737 2392