ALEX & EVE: THE COMPLETE STORY
Written and Directed by Alex Lykos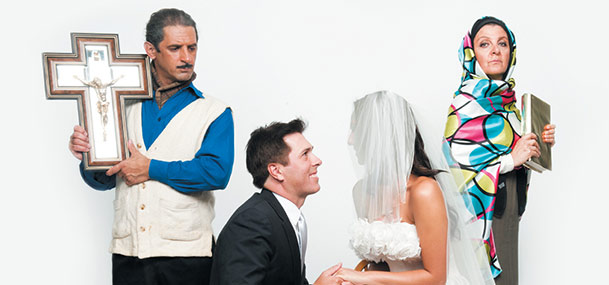 The hilarious, smash hit film returns to the stage!
Ten years since their love story began, Alex and Eve bring their laugh-out-loud romantic comedy back to the stage for an intimate season of shows at The Greek Centre.
The Alex & Eve series has captured the hearts of many, providing a charming and unpretentious look at multicultural Australia and what can happen when life and love cross cultural and religious boundaries.
Since the first play was brought to the stage in 2006, Bulldog Theatre has toured two more chapters (Alex & Eve: The Wedding and Alex & Eve: The Baby) to full houses and wide critical acclaim, and released the story as a major motion picture in 2015.
The Complete Story live edition follows the full journey of Alex, Eve and their crazy families in a dynamic two hour show, perfect for those that aren't yet familiar with the series, and those who just can't get enough! Don't miss this season which is guaranteed to be another sell out.

Thursday 1 September - Sunday 4 September 2016
The Greek Centre | Delphi Bank Mez
168 Lonsdale Street, Melbourne
CONTACT US:
03 9662 2722
tickets@greekcentre.com.au
This event is currently closed and no contact details are available