Continuum 13: Triskaidekaphilia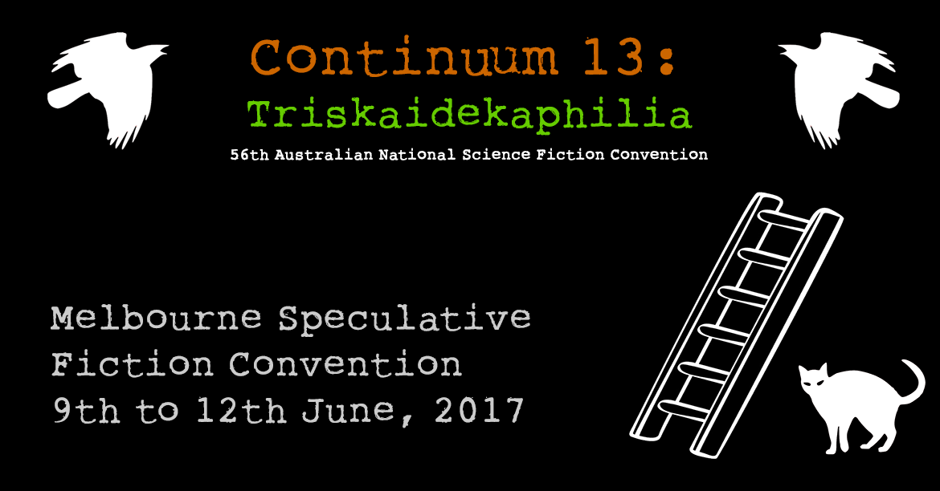 Description
Continuum 13: Triskaidekaphilia
noun tris·kai·deka·phi·lia
Some people are afraid of superstitions, but here at Continuum we celebrate them. Whether the things that scare you in the dark are from the bottom of your staircase or the darkness of space, we hope to have something to appeal to you.
Continuum is Melbourne's annual fan run speculative fiction and pop culture convention. Continuum celebrates creativity across genres and media.  Our aim each year is to provide a regional convention where writers, artists, readers and film/TV buffs of all kinds can get together for a weekend of panel discussions, entertainment, and social fun. In 2017 the convention will be held over the Queen's Birthday Long Weekend June 9th -12th. 
In 2017 Continuum is also the 56th Australian National Science Fiction Convention which means that we will be hosting fans not only from across the state, but across the country.
Guests of Honour at Continuum 13 will be author Seanan McGuire/Mira Grant and artist Likhain.
Venue
Jasper Hotel
489 Elizabeth St
Melbourne
Contact Details:
Questions, queries or other information requirements?
Please email the Continuum 13 Organizing Committee at info@continuum.org.au
Interested in being on a panel or volunteering for Continuum 13?
Please email the Continuum 13 Programmers at programming@continuum.org.au 
This event is currently closed and no contact details are available