The Fire In Us - A House Concert and Celebration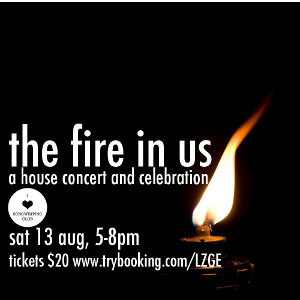 "The Fire In Us" - A House Concert and Celebration
The I Heart Songwriting Club is celebrating it's 2nd birthday with a collection of fiery and explosive songs at a secret house location in The Gap, Brisbane. Fire pits, ceremonial torches and songs to stoke your embers - this is the hot ticket event in town. BYO marshmallows and sticks (drinks, chairs and nibbles).
Members of the I Heart Songwriting Club from all over the world are meeting to celebrate this very special and momentous occasion in concert. Francesca de Valence (Brisbane), Helen Perris (Sydney), Emma Dean (Brisbane and New York), Sam Buckingham (Byron Bay and Central Americas), Sarah Collyer (Brisbane), Natalie de Jager (Brisbane), Jessie Ryan-Allen (Sunshine Coast) and Erin Jane (Brisbane and UK).
Tickets are $20 and the secret details will be emailed to you upon ticket purchase.
Please note: This event is not suitable for children due to the open fires, accessible in-ground pool and flammable stories. (Children above the age of 10 can attend at the full discretion of their parents and need to be supervised at all times)
*This event will be filmed as a documentary. By attending, you may be in camera shot with any wide shots of the audience. You may be invited to engage directly with the camera in making the documentary.
Venue:
Secret Brisbane Location
The Gap, QLD 4061
Contact Details:
Francesca de Valence info@fdvmusic.com
This event is currently closed and no contact details are available