Silver Linings - our 25th anniversary concert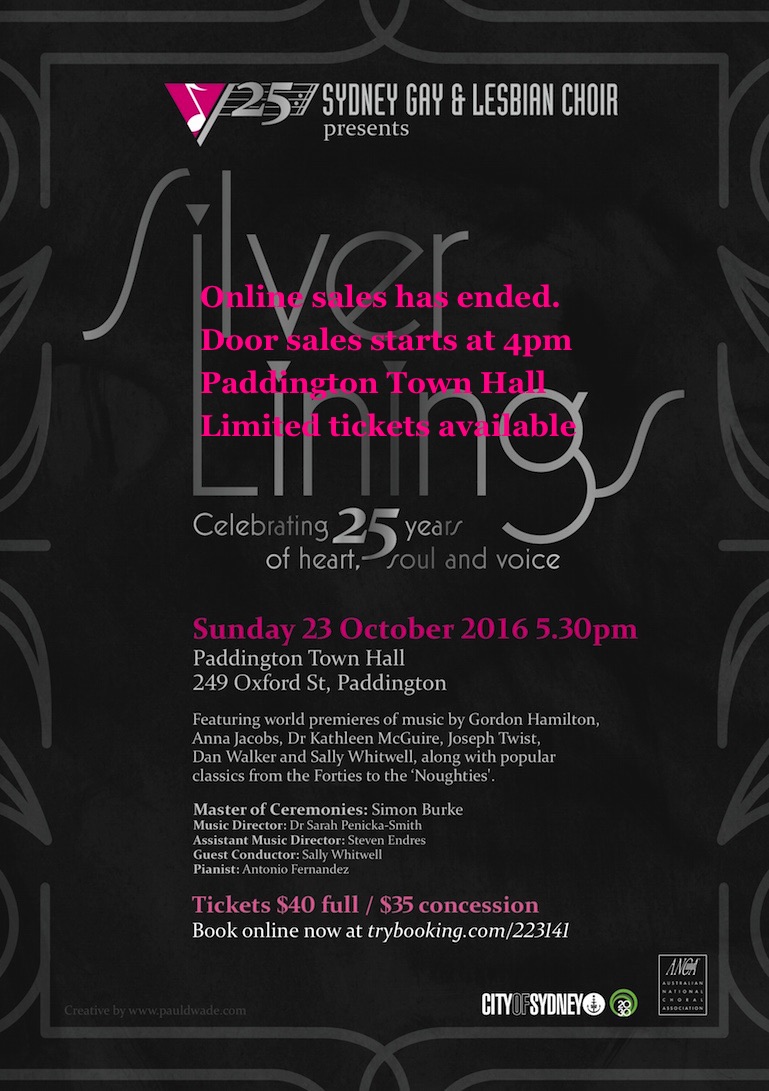 Online sales has ended. Door sales starts at 4pm at the Paddington Town Hall.
Limited seats available. Come early!
Description
To celebrate 25 wonderful years of entertaining our audiences, the Sydney Gay & Lesbian Choir put together a spectacular concert to usher in the next chapter of our musical journey.
SILVER LININGS will feature popular classics from our repertoire in the past 25 years, such as k.d. lang's 'Barefoot', Freddie Mercury's 'Bohemian Rhapsody' and David Bowie's 'Space Oddity', as well as new compositions to commemorate the anniversary.
The concert will premiere original works by six Australian composers: 'Imagine' (Joseph Twist) draws inspiration from the words of John Lennon, Lady Gaga, Ru Paul and Kylie Minogue. 'Turing Believes Machines Think' (Gordon Hamilton) sets British mathematician Alan Turing's famous last syllogism to music with a backing of Turing's Bombe machine. 'Immortality' (Dr Kathleen McGuire) elucidates powerful emotions, it ponders where we might find the "original harmony". 'Alone And Palely Loitering' (Sally Whitwell) is as tranquil and introspective as it is unsettling. Dan Walker's 'The Journey Forward' (Dan Walker) is an uplifting meditation on change in the face of difficulty. And 'Sydney Harbour' (Anna Jacobs) paints a nostalgic and bright picture of one of Australia's most beloved cities.
Come join us for an unforgettable evening of beautiful songs!
Time
Sunday 23rd October 5.30pm
Venue
Paddington Town Hall
249 Oxford St
Paddington, NSW 2021
Contact
sales@SGLC.org
This event is currently closed and no contact details are available