Holiday Workshops September 2016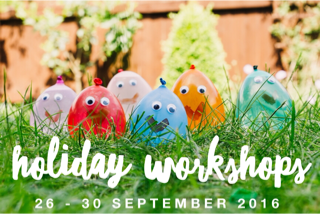 September Holiday Workshops

Bookings Open Thursday 1 September, 8.00pm

Holiday Workshops Enrolment Conditions
Refunds: Please choose carefully as fees are non -refundable
Transfers: Permitted for an alternative workshop free of charge if five days' notice is given before the workshop starts and provided that workshop you are transferring to is not full.
Confirmation: Enrolment is not confirmed until payment is made in full, at which time a receipt is emailed to you.
Eligibility: Children attending Holiday Workshops must be over the age of 5 years and have started school.
Privacy: If needed your contact details will be passed on to tutors for correspondence outside the workshop.
E-newsletter: By enrolling in a workshop, you are subscribed to receive our e-newsletter. You can unsubscribe from this at any point.
Cancelled workshops: Workshops require a minimum number of enrolments to proceed. You will receive a full refund and be contacted if a workshops is cancelled.
Responsibility of children: There is no responsibility taken for children before or after the workshops. There are no child minding facilities available and children must be collected promptly at the conclusion of the workshops. Late fees apply.
Sign in / sign out protocol: All children must be signed in and out of workshops by parents or an appointed carer.
This event is currently closed and no contact details are available