THE SIDESHOW: a part of The Invisible Circus | November 2017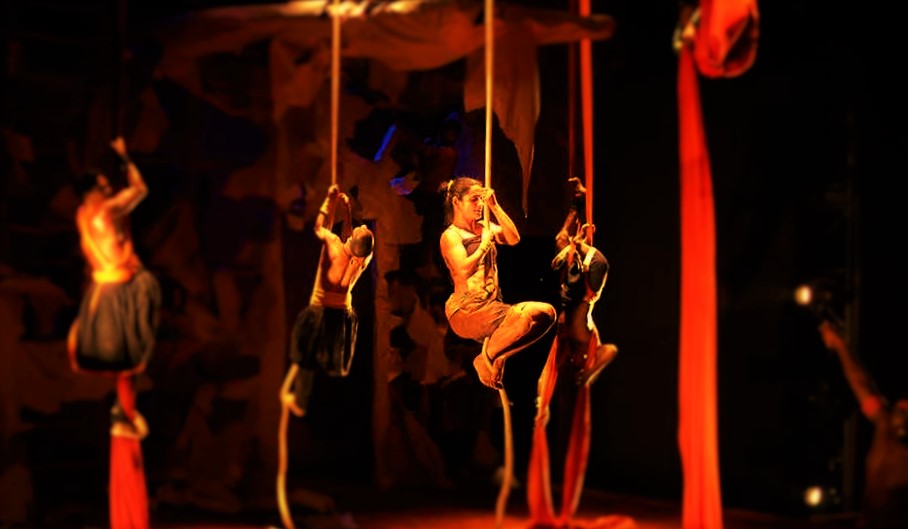 NOTE ~ MONDAY 28 NOVEMBER CLOSING EVENT IS FULLY BOOKED
ABOUT
Curated by bAKEHOUSE Artistic Director and KXT Creative Director Suzanne Millar, working with a team of bold producers and brassy performers, the Sideshow is a series of arts events celebrating the work of women. Includes readings, open door rehearsals, art installations, forums and music. And featuring work from the Middle East, Malaysia and India.
the SIDESHOWS are FREE events -- Click on the link to book your place
THE LADEN TABLE: first staged in 2014 with the support of ICE (Information & Cultural Exchange), bAKEHOUSE has been working with the writing team to finesse and fine tune an exciting script. With the divisive rhetoric of Trump and the constant surprise of Pauline in public office, this is about as topical as it gets. Open rehearsals and rehearsed reading November 7 - 14
"I am speaking but you do not listen - I am talking but you do not hear"
Two families, one Jewish and one Muslim, celebrate their feast day. Jacob's family attends to the ritual of Yom Kippur, Ibrahim's family celebrates Eid. Tonight they will discover the ties that bind them together.
FREEFALLING [ in development ] : examining a life lived on the outside of normal, with a particular look at diversity and issues of mental health. With just a smackerel of Winnie the Pooh. Working with Renee Lim and LeftofCentre Theatre. Development November 15 - 20
Weeds are flowers too, once you get to know them -- AA Milne
JATINGA: an international co-production and part of the broader bACE Mumbai project building relationships between artists in Sydney & Mumbai. Jatinga is a bAKEHOUSE commission highlighting our work in Kamathipura, Mumbai - Asia's oldest and largest red light district. We'll be joined by award-wining Mumbai-based playwright Purva Naresh as part of the bAKEHOUSE Cultural Exchange. Open rehearsals, discussion and rehearsed readings November 21 - 27
In India there is a place called JATINGA. It used to be and still is famous for an area known as the bird's suicide point. Apparently the birds come migrating but mysteriously fly off the cliff to plunge to their deaths. Recently researchers have come to the conclusion that the suicides may be murders...
ALSO
we'll be hosting art exhibitions and music, and a couple of special events with special people Details coming soon
bAKEHOUSE Theatre working with Abe's Babes; LeftofCentre; Aarambh; The Hive; microgalleries; Siren Theatre Co; The Impending Room
At KXT - Kings Cross Theatre.
Free
Venue
KXT - KINGS CROSS THEATRE
Level 2, Kings Cross Hotel
244 - 248 William Street, Kings Cross
Sydney, NSW 2011
Contact Details:
Suzanne Millar e: suzanne.bakehouse@gmail.com | mob: 0431 040 586
for more information on other events in The Invisible Circus program, running at KXT through November, and to book tickets for Good With Maps, Tiny Remarkable Bramble and The Angelica Complex click on the link to head over to the website -- INVISIBLE CIRCUS
NOTE: THE FESTIVAL CLOSING EVENT FEAT READINGS FROM JATINGA IS NOW FULLY BOOKED
This event is currently closed and no contact details are available