Liberal Arts & The Economy: John Simons & John Schuster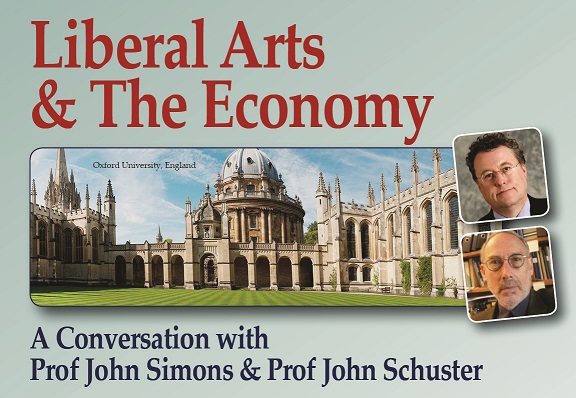 Is scientific and technical training the only form of education worth having, or is this an idea loaded with untested presumptions about what an economy is about?
The Centre for the Study of Western Tradition at Campion College Australia welcomes you to spend the day asking these and other questions with two eminent leaders in tertiary education.
Find out about possibilities of an alternative program of education that not only takes foundational concerns and inquiries seriously, but has implications for the not being recognised in the current technocratic paradigm
Please scroll to the bottom to continue registering.
Speakers
Prof John Simons, Vice-Chancellor (Academic), Macquarie University
The Future Really Will Happen: Surviving the Great Disruption
A massive disruption based on the digitally afforded delivery of higher education at high volume and low cost is just around the corner. Most developed world universities will be unable to cope with it and will come under massive pressure.
This paper explores the options and suggests that while the overwhelming likelihood is that this will be a catastrophic change a few universities will understand how to ride the wave of change and make an opportunity out of a threat.
Prof John Schuster, Fellow, Australian Academy for the Humanities
Quick [Illusory] Fix; or, Properly Distanced, Mutual Articulation? How Liberal Arts Colleges Can [Only] Thrive in a Reformed Tertiary System
This paper claims that current liberal arts settings are played out within our failed and dysfunctional undergraduate model of vocationally oriented specialist education. We need radical reform and allow the emergence of undergraduate liberal arts colleges to feed the graduate university faculties.
Furthermore, undergraduate liberal arts curricula should not connect directly to 'jobs', but should be the pre-requisite for postgraduate study in the learned professions, with mid-level technicians and managers being products of polytechnics.
This paper will also exhibit some futile gambits of liberal arts scholars scrambling inside the present system to save only their own fields; and some impotent suggestions put forward by policy pundits glued inside the present system. It will then look at Campion College Australia and the revised structures at the University of Melbourne as notable exceptions.
Venue
Campion College Australia
8-14 Austin Woodbury Place
Old Toongabbie, NSW 2146
Date
29 September, 10:00 am - 3:00 pm
Cost
$30.00 (Includes Registration, Refreshments and Lunch)
Contact Details
Dr. Matthew Tan
Director, Centre for the Study of Western Tradition
Campion College Australia
Email: cswt@campion.edu.au
This event is currently closed and no contact details are available