Event Waitlist
Your name has been added to the wait list for this event. The event organiser will contact you through your email address once there are available seats / slots.
Great Noosa Trail Walk 2017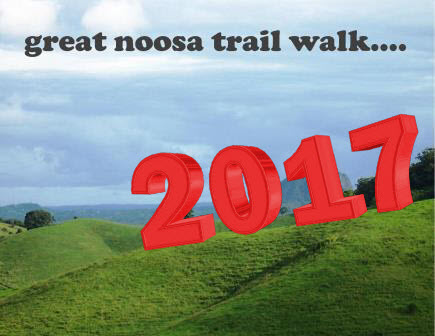 Cancellation of Great Noosa Trail Walk
I am so sorry to advise that today we have made the difficult decision to cancel the Great Noosa Trail Walk for 2017 due to heat, drought and fire hazard.
There is no forecast of rain and our last significant rainfall was in March. It is very dry and unpleasant. The extended weather forecast is for above 30 degrees for most days over the next fortnight and at least one or two above 35 degrees. (average temps in September / October is meant to be 26) The temperature is anticipated to be 33 degrees on the Saturday / Sunday of the walk.
The local rural fire service at Kin Kin are very concerned for fuel loads and fire risk in the local area and very concerned for the heat and bushfire conditions, as walkers are travelling on steep terrain which has highest fire risk applied to it (in particular Wahpunga Range and Woondum Plateau). In addition an existing fire has been smouldering across extensive areas of the Woondum Plateau for the last three weeks. They are very relieved we are cancelling the walk for the safety of all.
To be honest our hinterland is looking so poorly at the moment, it is not a quality Noosa Country experience for visitors, especially if temperatures are going to be so high for walkers.
Full Refund or Rebooking
All walkers are entitled to a full refund,
or if you wish, retention of a ticket/s for a rescheduled walk, tentatively on the May Long Weekend (subject to interest and approvals).
If you could please advise by email info@greatnoosatrailwalk.com.au of your intended option, and we will arrange either a transfer and inclusion in a new booking, or a full refund. Refunds will be via the Trybooking system refunding to the card that you originally paid with.
Cooran Acoustic Night on Sunday Night
Please be advised that the iconic Cooran Acoustic Night is still being held in Cooran on the Sunday night from 7pm. Visitors very welcome. Camping near to the oval is available.
Apologies
We apologise for any inconvenience, but it is the right thing to do to ensure all people remain safe. We also hope providing a little notice can help walkers make alternative arrangements.
My sincerest apologies again.
Shaun Walsh
Great Noosa Trail Walk Team
This event is currently closed and no contact details are available