CBA workshop: Biodiversity in R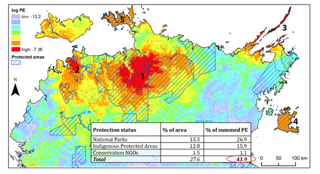 Biodiversity in R: models and methods for spatial analysis
21-23 November, 2016 | Australian National University
Spatial patterns of biological diversity are central to many aspects of ecology, evolution and conservation.
Techniques for mapping, inferring and analysing the distribution of biodiversity are advancing rapidly, but it is rarely possible to learn and use the method just from reading the publications.
This workshop will take a broad view of different dimensions and metrics of biodiversity, including community composition, evolutionary relationships and their applications to a range of applied questions.
It will present students and researchers in biology and conservation with a range of recent techniques for analysing spatial patterns of biological diversity, including community and phylogenetic diversity.
Sciences Teaching Building
Rm S2 (top floor), Bldg 136
Australian National University
Acton, ACT 2600
CBA Coordinator: Claire Stephens
For more information see the CBA webpage
* Please note: We have been advised by ANU Finance that ANU staff and students shouldn't pay for ANU activities (which includes CBA events) using an ANU Purchase Card; you need to arrange a journal transfer. Please use the "Promotion code" CBA2016 when you register (this will allow you to register without a credit card) and then arrange for Finance to do a journal transfer of $25 to the CBA's GLC S4151002. Apologies for the inconvenience.

This event is currently closed and no contact details are available