TechScience Two Days Holiday Workshop , 16-17 January 2017
TechScience two days Holiday Workshops for kids 8 - 12 Y/O
January 16th - 17th, 2017
TechScience two days Holiday Workshops for kids 8 - 12 Y/O. Monday & Tuesday, January 16th & 17th, 2017 from 9am to 3pm. St. Matthews courtyard, Darley Rd. Manly NSW 2095.
The program includes :
1. Hands-on Robotic programming using Scratch
2. Lego and Minecraft Stop Motion Animation videos.
3. Build cool projects with LittleBits Electrinics
4, Build your own electric Kit and take it home!
5. Learn about Future Technologies and more...
For more info about our holiday workshop go to: http://www.techscience.com.au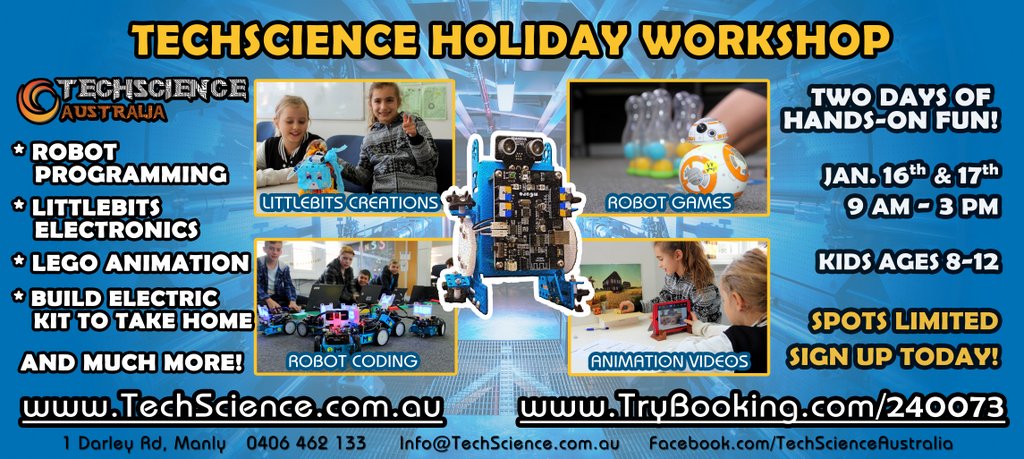 Venue
TechScience Two-Days Holiday Workshop for Kids 8 - 12 y.o. January 16-17th 2017
St. Matthews courtyard,
Darley rd.
Manly, NSW 2095
Contact Details:
Gabi Carmel Email: info@techscience.com.au
Mobile: 0406462133
Please note: By registering your child, you agree to the taking of photographs and video clips of your child during TechScience Australia activities. These may be used by TechScience Australia educating future students, emails to parents and for promotion purposes. We will never include the names or details of children without specific permission by the parents and will never sell any of the multimedia content to a third party.

This event is currently closed and no contact details are available