The Ripple Effect - a House Concert (Sydney)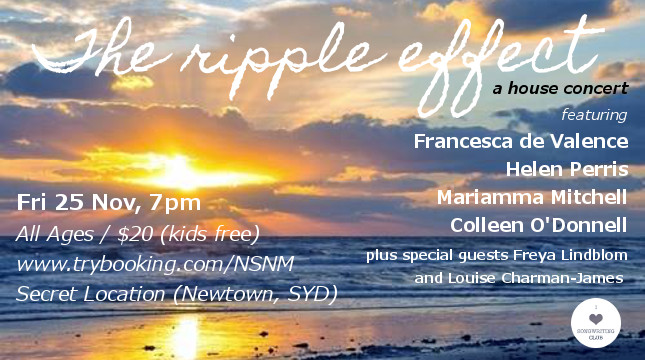 The Ripple Effect - a House Concert

Water. Waves. Impact. Cleansing.
The theme for the final I Heart Songwriting Club house concert for 2016 is The Ripple Effect, which is symbolic of the real-life ripple effect that this unique global online songwriting club is creating. After operating as a private 'pilot' club for 2 years, the doors were opened to public membership in July 2016. A few months later there are 100 members from all over the world – each writing songs every single week.
The I Heart Songwriting Club focuses on the process of creativity through restriction. It exists as a community space for songwriters who are isolated in their practice, it is a tool of motivation and accountability for songwriters who have 'writer's block' or struggle to finish songs, and is a support network to keep songwriters writing every single week. The benefits to many members are well beyond simply musical and fall into the category of 'life-changing'.
We have the immense pleasure of hosting our first I Heart Songwriting Club House Concert in Sydney in a secret house location in Newtown. Brand new songs will be premiered from I Heart Songwriting Club members Francesca de Valence (founder and director), Helen Perris, Mariamma Mitchell and Colleen O'Donnell, as well as guest performers Freya Lindblom and Louise Charman-James.
Now that we've captured your attention, get your tickets to find out the secret location details (in Newtown, Sydney). A pre-purchased ticket is the only way to attend and these events are often sold out.
IMPORTANT: There are only 30 tickets available for purchase - please do not delay in securing your tickets.

Details:

Fri 25 Nov, 7pm (duration 2.5 hours approx)

Secret House Location
Newtown, NSW, 2042

Tickets $15-20 / Kids under 10 yo - free admission

All Ages
Group Discount available
The secret details will be emailed to you upon ticket purchase.

Contact Details:
Francesca de Valence
admin@iheartsongwritingclub.com
This event is currently closed and no contact details are available