Paleonutter presents
'SWEET AS'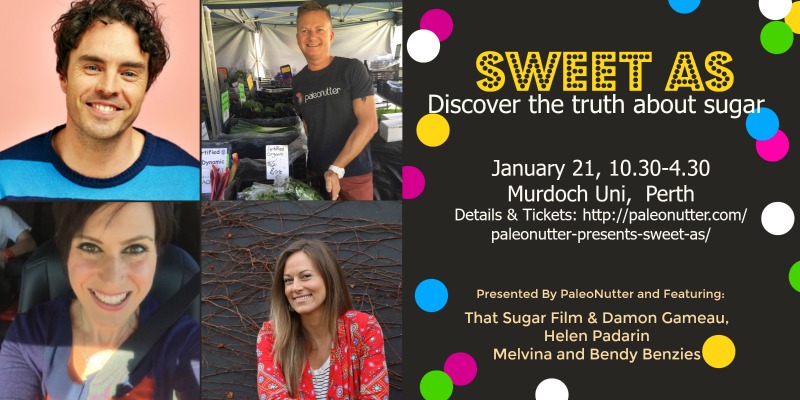 Join us on Saturday 21st January 2017 at Murdoch University in Perth for 'Sweet As', a whole day during which we will be showing the award winning movie 'That Sugar Film' and are being joined by its creator, the wonderful Damon Gameau!
We are also incredibly lucky to be able to announce we are being joined by Helen Padarin from Nourish-ed and Pete Evans' The Paleo Way. Helen has also just co-authored the fantastic book, 'The Gut Health Cook Book' in conjunction with Pete Evans.
These people are a wealth of knowledge about good health and we will all be on an exciting learning journey about what sugar does to our bodies and its long term health implications.
Paleonutter will be giving lots of tips on how to make this lifestyle work for a busy, working family.
We will also have markets selling Paleo friendly goods, so come and try bone broth, kombucha, sauerkraut and learn how to clean your home without harsh chemicals!
This will be a fun day suitable for all the family so bring along those you're trying to help regain their health.
Tickets would be an awesome Christmas present for those you love and value.
The Kim Beasley Theatre
Murdoch University,
South Street,
Murdoch,
WA 6150
This event is currently closed and no contact details are available